Rock Art of Alta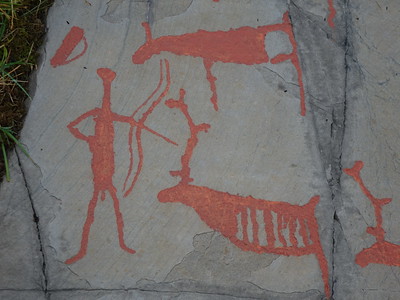 .
The Rock Art of Alta consists of more than 5000 carvings and paintings on several sites around Alta. They were discovered in 1972. The main site contains around 3000 individual carvings and has been turned into an open-air museum. The earliest carvings in the area date to around 4200 BC; the most recent carvings are generally dated to around 500 BC.
The wide variety of imagery shows a culture of hunter-gatherers that was able to control herds of reindeer, was adept at boat building and fishing and practiced shamanistic rituals involving bear worship and other venerated animals. Apart from the visual evidence of the carvings themselves, not much is known about the culture that produced these carvings.
Reviews
Clyde (Malta):
I visited this WHS in May 2010. It is quite remote, close to the Arctic Circle and still cold although there was the midnight sun when I went there. However, you'll be rewarded for your perseverance if you visit this place. The snow-capped mountains and sea form an idyllic background to the numerous rock carvings at Alta. The visitor centre is very well organised with valuable information and a much needed cup of hot chocolate after visiting the site.
Date posted: September 2012
John Booth (New Zealand):
I enjoyed visiting the rock art with its coloring as it brought out the designs so clearly (compared to those in the Coa Valley, Portugal). The town of Alta is no WHS, but I found the surrounding landscape interesting and varied; rural Lapland with Sami villages towards Hammerfest, rocky gorges followed by tundra towards Finland, and coastal fiord scenery west to Tromso. And I found friendly Nowegians and Finns operating bus services to all these places.
Within Alta there is a local bus service linking the various parts of town, but not on Sundays, so I had to walk from the Sentrum to Hjemmeluft to visit the museum and rock engravings.
Date posted: May 2010
Christer Sundberg (Sweden):

The town of Alta is not what-so-ever worth a detour. Spread out over 5 km with not less than three centres it could certainly pose as the Norwegian equivalent of one of those remote villages in an American road movie where the hero ends up in after having taken the wrong turn on the highway and gets tangled up in a weird story.

Not that I had any bad experiences in Alta but it just was not my kind of town. I also understood that the people living through the long and cold winters up there actually get a tax deduction for their heroism. Bless them all…

The rock carvings on the other hand, are worth a detour! If you happen to be in the neighbourhood, start with the excellent museum, café and souvenir shop all-in-onet before you embark on a long walk pass the many carvings. Some of them are over 9000 years old and once made by the Komsa culture back in the stone- and bronze age. And there are thousands of them….boats, reindeers, bears, fish, birds, elks, women and men, children, hunting scenes in an endless row. And its all up to your own imagination what they really means and tells. No one has really managed to explain them fully.
Date posted: February 2006
Paul Tanner (UK):
There are (at least?) 4 different WHS solely devoted to prehistoric rock carvings – Alta (Norway), Valcamonica (Italy), Tanum (Sweden) and Coa Valley (Portugal)- Bhimbetka in India I think is all rock painting rather than petroglyphs. I have been lucky enough to visit the first 3(and some others – for instance those at Cholton Ata on the Kyrgyzstan Tentative list). I am no expert on the subject (Have a look at http://rupestre.net/ for an entrée to the world of Rock art) and would not attempt to judge between them on grounds of artistic merit or historical significance – all are worth visiting but perhaps the site at Alta is the most atmospheric. The carvings overlook Alta fjord - way inside the Arctic Circle. If you have driven here from Southern Norway you have come a long long way – and it feels it. Just driving round this enormous fjord on the way to the North Cape is a half day drive!

The Norwegians (as have the Swedes) have decided to highlight the carvings with a dye (the Italians have not) this makes them clear and easy to see. All are close together on a series of ice-smoothed rocks. Apparently they date from around 4200 – 500BCE. It is nice to think of ancient peoples passing the time by recording their daily lives and beliefs whilst looking out over that same fjord view which even today shows few signs of modern life apart from a few farmsteads (although the sea level was apparently somewhat different then - higher I believe because of Isostatic rebound (??) - and the rocks were therefore closer to the shore)!
&nbsp
Have you been to Rock Art of Alta? Share your experiences!