Calakmul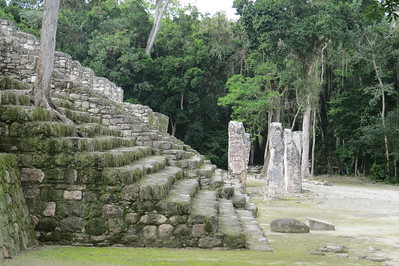 .
The Ancient Maya City of Calakmul, Campeche is one of the largest ancient Maya cities ever uncovered, with many objects like stelae, murals and burial tombs still in situ. The site contains 117 stelae, the largest total in the region.
It flourished between 400 BC to 900 AD, which makes it older than the other inscribed Maya sites. Afterwards the center of Maya power shifted to the north. In its time, Calakmul was the rival of
Tikal
.
The site was not rediscovered until 1931. The ruins of the ancient settlement consist of three groups of structures, with public open spaces and platforms with buildings. Its major monument, the pyramid temple Structure 2, is one of the most massive structures built in the Maya world.
Reviews
anthony Sun (USA):
Two years ago in December of 2007, my family and I took a driving tour of the Yucatan in Mexico. Calakmul is certainly the highlight. We spent an evening in the town of Campeche and drove to Calakmul the next morning. The drive goes through pristine forests and after you turn off the highway, you are entering the Calakmul Biosphere. You can definitely notice the bird sounds and we even had to stop to let a family of wild turkeys cross the road.
The Mayan city of Calakmul is less restored than Chichen or Uxmal and so much more in its natural setting. There are no crowds of tourists unlike Chichen (thousands of tourist come to Chichen from Cancun by the bus loads just for the day) and we only saw a couple of other families there that day.
The best part of Calakmul is that you can still climb the pyramids unlike Chichen and Uxmal where they are totally off limits. There are several that you can climb and we did the two highest. On the main pyramid, you will have a 360 degree view of the country side and we sat up there for nearly an hour just looking at the forest to the horizon. Unfortunately when it got too hot we had to descend to some shade.
A local guide pointed out another pyramid in the southern direction in the distance which is Mirador just over the border in Guatemala. My understanding is that the World Heritage Fund is restoring Mirador and that they believe that it rivals Tikal and all other Mayan cities. Once completed and open to the public, I anticipate that Mirador will become another WHS.
The last tidbit on Calakmul is that they discovered an opening on the main pyramid to another pyramid inside. They built the main pyramid over an older pyramid. Pictures show that the inner pyramid has very well preserved paintings and features. Unfortunately unless you are doing field work, the entrance is locked by a steel door and not open to the public.
Not to be missed.
Date posted: December 2009
Have you been to Ancient Maya City of Calakmul, Campeche? Share your experiences!