Comoé National Park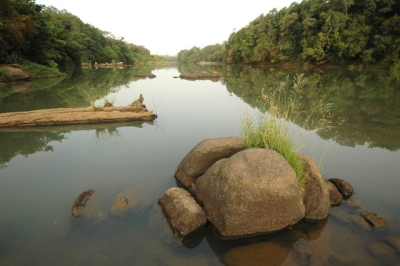 © Peter Howard, African Natural Heritage
Comoé National Park around the Comoé River has a high diversity of plant life. It also is a habitat for internationally protected bird species (partly migratory), and other animals like the chimpanzee and dwarf crocodile. At 1,149,450 ha, the park covers a very large area.
In 2003 it was added to the list of World Heritage Sites in Danger due to poaching, over-grazing of the park by cattle, and absence of management.
Reviews
Jorge Sanchez (Spain):
Together with six friends from Spain, and a driver from Abidjan, we reached in our rented van the Comoé National Park, in the northeast of Ivory Coast.
We were lodged in huts at the entrance of the park and the next day we paid the entrance fees, hired two boats with a guide and navigated along the River Komoé for a few hours.
The River Komoé originates in Burkina Faso and during many kilometers marks the border between Burkina Faso and Ivory Coast.
It crosses the whole country until its meets the Ocean, near Abidjan.
That part of the river that we were exploring is rich in vegetation and fauna. UNESCO declared it Patrimony of the Humankind.
Apart from many birds, which we could not identify since we were simple travelers but not ornithologists, we only could see hippopotamus, many of them, not entirely but only their back and heads with their enormous eyes staring at us. I think that they felt more curiosity for us that on the contrary.
Comoé National Park was the first of the two parks that we would visit in Ivory Coast. The second one would be Taï National Park, to where we would head a few days later.
Satisfied with what we saw in Comoé National Park, we navigated back to our base and a few days later we continued our journey around Ivory Coast.
Date posted: August 2013
Iain Jackson (Scotland UK):
Comoe is said to be the biggest National Park in West Africa (at least it was when I visited in February 1995) but despite its size I did not find it easy to get to and even more difficult to travel in. I crossed the border from Ghana near Bondoukou and made my way slowly by local transport to Kakpin on the southern boundary of the park where I stayed at le campement.

Any hopes I might have had about informative tours of the park led by well informed Rangers were soon dashed but eventually I did join an expat Frenchman in his 4x4 for a quick whizz round some of the southern parts of the park.

In truth neither the landscape nor the vegetation was particularly attractive and in general, it seems, parks in West Africa do not compare well with those in East Africa as far as the number and diversity of wildlife is concerned.

I saw no lions, giraffes or elephants but there were warthogs, hippos, antelope, monkeys and birds with black and white hornbills prominent amongst them. The scenery was mostly scrubby trees and termite mounds though there were stretches of forest along the Comoe river.

I do not know if conditions in the park deteriorated further after I was there or if what I saw was already bad enough for it to be put on the WHS In Danger list.

I think it is probably a site only for the very committed wild-life fan (or the WHS completist I guess) and then it would be much easier to have your own transport. But for those who relish the challenges and surprises that travel by public transport in off-the-beaten-track West Africa brings then getting there and away is at least half the fun.
Date posted: January 2010
Have you been to Comoé National Park? Share your experiences!