Corfu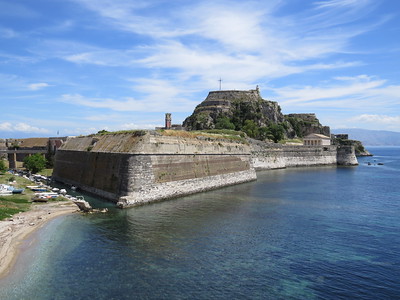 .
The Old Town of Corfu is noted for its defence system dating from the Venetian period. It also has preserved its remarkable (British) Neoclassical housing of the 19th and early 20th centuries.
Corfu has played an important role since the 8th century. The city has become known as a Kastropolis (Castle City) because of its three castles. The old fortifications of the town were in great part thrown down by the English in the 19th century.
Reviews
Dr. Owen Mifsud (Malta):
We visited the beautiful island of Corfu this summer. Corfu Town is the capital of the island and there are two fortifications at both ends of the city. The Old fortification is picturesque lying on an outstretched peninsula in the Ionian sea. However, it seems to be collapsing slowly following the bombings of World War II. The church of St. George in the fortress is worth a view. The New Fortress lies at the opposite end of the city and is in a much better state. The city is beautiful at night but beware of motorbikers! The architecture varies from Greek Orthodox type, to Venetian, to English. A view to St. Spiridion church is a must. Definitely worth a visit.
Date posted: September 2008
Klaus Freisinger (Austria):
The island of Corfu is mostly known as a holiday destination for its beaches and its green environment, which is quite unlike most other Greek islands. Its history is also unique among its sister islands, in that it has never been part of the Ottoman Empire (although the Turks have besieged the island many times). It was instead ruled by the Venetians, who have left many architectural traces, and then, succesively, by the Russians, the French, and the British, before it became part of Greece. The capital of the island, of the same name, has been a fortified place for many centuries, and has withstood the invasion attempts of many would-be conquerors (although it was the first of the Greek cities to submit to Roman rule). The city´s architecture today is mainly of Venetian origin. The Venetians used the city to guard their Mediterranean trade routes against the Turks and thus constructed big fortificatons there. The historic part is well-preserved, and any visit to Corfu should include a trip to the capital, but I`m not 100% sure if its place on the WH list is fully deserved, since there was a lot of destruction in WWII and a lot of the architecture is from the British period (and thus not particularly remarkable).
&nbsp
Have you been to The Old Town of Corfu? Share your experiences!