Medieval Monuments in Kosovo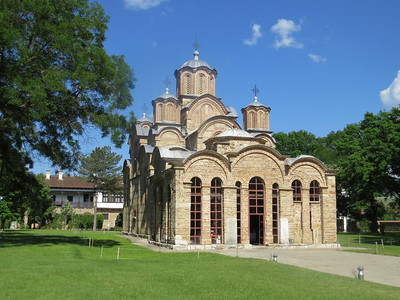 .
Medieval Monuments in Kosovo consists of four Serbian Orthodox Christian churches and monasteries built in the 13th and 14th centuries. They represent the fusion of the eastern Orthodox Byzantine and the western Romanesque ecclesiastical architecture to form the so-called Palaiologian Renaissance style. It has a distinct style of mural painting.
In 2004, UNESCO recognized the Decani Monastery for its outstanding universal value. Two years later, the site of patrimony was extended as a serial nomination, to include three other religious monuments.
Hence, the property Medieval Monuments in Kosovo now consists of:
- Decani Monastery
- Patriarchate of Pec Monastery
- Our Lady of Ljeviš
- Gracanica Monastery
It was also in 2006 when the property was inscribed on the World Heritage List in Danger due to difficulties in its management and conservation stemming from the region's political instability.
Reviews
Jarek Pokrzywnicki (Poland):
Well known but currently a bit difficult to visit. All monuments are protected either by KFOR soldiers (Gracanica, Pec, Vysoki Decani) or Albanian-Kosovian policeman (Prizren). The road are completely unmarked (Serbian signs were removed) but you can ask people how to get there. First three sights are living monasteries under KFOR protection but they can be visited (secirity check necessary) while Prizren is currently unable to see from inside.
Date posted: August 2011
Bartosz Radojewski (Poland):
From all of those churches my favorite one would definitely be Our Lady of Ljevią. It is an outstanding example of late byzantine architecture. Throughout its long history it was a holly place for Christians and Muslims, who converted it during the Ottoman rule and named Friday Mosque (al-jumʿa xhamia in Arabic). This name is still in use among Muslim Albanians in the city of Prizren.
Unfortunately the devastation of the paintings inside the church - initiated during Ottoman times - reached its peak during the march 2004 riots. The restoration of the site is still in progress.
Date posted: October 2010
Joyce (The Netherlands):

This is probably one of the few WHS where you have to go through military checkpoints (if they even let you) and you'll have several guns and a tank pointing at you before you enter; this place has a rich history with maybe not such a good location. The church looks beautiful on the outside with two different types of local stones. The walls and ceilings inside are covered with Byzantine paintings. There are about 30 monks living inside the monastery and their main task all day is praying. If you are lucky an English-speaking monk will open the church for you and will answer your questions. Father Ezekial speaks very good English, so if you go it might be worth asking for him. He was able to tell us about the history of the Serbian Orthodox church, the history of the monastery, daily life as a monk, and even some surprises: during the war in Kosovo, the (Serbian) monks at Dečani protected Alabanian Kosovar Moslems by allowing them to hide in the Monastery.
If you like this monastery you should definitely head over to the Patriarchate monastery near Peja: The paintings there are in even better shape and the Monastery is more important (in the Serbian Orthodox Church) than the Dečani monastery.
Date posted: July 2006
George Vaughan (Wales):
The extension of this site to cover other medieval monuments in Kosovo makes good sense from a number of angles. Whatever the political considerations, these other sites probably deserved to be listed from the outset and Gracanica, the only one I can actually speak of, struck me as World Heritage material as soon as I saw it. While Gracanica town, with its history of division, is rather a sad place, the walled monastic enclosure could be in a different country and you have to remind yourself, if you really must, that there is an armoured car - there more for the presence than anything else - outside the gate.

The church is very imposing from the outside but appears small and more personal from within. The frescoes - even including one of the foundation charter - are as magnificent as the building. This is one of the great sights of the Balkans and now has the world status it deserves.
Date posted: July 2006
Have you been to Medieval Monuments in Kosovo? Share your experiences!