Derbent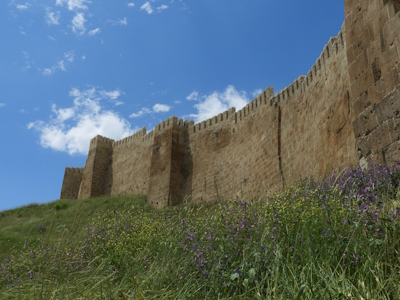 .
The Citadel, Ancient City and Fortress Buildings of Derbent are part of a strategic Sasanian defence system from the 5th century. Derbent is situated on the western shores of the Caspian Sea, in present-day Dagestan. It was in the position to control the traffic between Europe and the Middle East, and shield the prospering agricultural peoples of the Middle East from devastating raids of nomadic tribes from the steppes of South-Eastern Europe.
The defence structures that were built by the Sasanians were in continuous use by the succeeding Persian, Arabic, Mongol, and Timurid governments. Its militairy function lasted til the 19th century. Its name is a Persian word: "Darband", meaning "closed gates".
The fortifications consist of:
• Two parallel defence walls, 3.6km long, stretching from the sea up to the mountains. They were built from stone and had 73 defence towers. 9 out of the 14 original gates remain.
• Naryn-Kala Citadel: most of the old buildings, including a palace and a church, are now in ruins. It also holds baths and one of the oldest mosques in the former USSR.
• the ancient City, between the two walls, holds interesting courtyard houses, mosques, baths, madrasahs, and the remains of a caravanserai.
Reviews
Yeshuah Ben Israel (Israel):
This great historic wall was built to keep out the hoards of savage caucasians who lived in the inhospitable region in the caves and hillsides of that Caucasus area. It is a facinating history that extends back 6000 years, when these savage people, who are refered to as Gog and Magog, or known as the caveman, were walled in away from the civilized areas of man.
Date posted: July 2010
angela elizirov (usa):
me and my husband are from Derbent. My grand-grand parents came to Derbent and built a beatifull houses. And also I know books about my Family-tress Ildatov. So if any one can help me to find those books I'll be very happy. The books published in 1913.
Date posted: August 2009
():
i was born in Derbent, untill 1993, it was populated by caucasian Jews, after the colapse of the Soviet Union, Jews Left either to Israel or US, and then muslims from the local villiages took over. It was the most beautiful place and the only place where Jews, Muslims and Christians lived side by side like Family! However i heard after the Chechnya War, Chechen wanted to take over the City, and since Derbent belongs to Russia, it did not Happen! I'm very Happy That It did not Happen! Derbent is too Valuable, to the History of Kavkaz to belong to Muslim Extremists! Only people with Good Intentions (it doesnt matter what religion they are) should live there. I'm so Happy i was born in such an innocent place, where Hate and Jelousy was not present, only good memmories!
&nbsp
Davood ALizadeh (IRAN):
Tehran, IRAN The name Derbent/Derband in Persian is very nostalgic to many Persians/Iranians as She was one of the great pride Persian towns along the Capsian Sea up to 19th Century, when Russia took over the city from Iran by 1820. Even North Tehran district today has an old enclave named after the city of Derband in Russia. It is one of my great fantacies to be able to finally see Derband.
Davood
&nbsp
Togrul (Azerbaijan):
This is one of the most wonderful of the Azerbaijani cities. Unfortunately, it remained in Russia when Azerbaijan got independence, now visiting this beautiful city bears problems for us, Azerbaijanis of mainland Azerbaijan...
&nbsp
MEIR (CANADA):
I WAS BORN IN DERBENT . I LEFT THE CITY WHEN I WAS 13
I STILL REMEMBER ALL THE STREETS IN THE CITY BEFORE I LEFT
1972
&nbsp
leah (United states):
i was born in Derbent and lived there for 12 years. I love my city
&nbsp
fahri (Turkey):
I have been there 4 years ago. I worked for a private Turkish University named International Eastern University as a lecturer. I tought there some accounting lessons. I always miss the days I lived in Derbent and miss the students. Who ever loves and saves Derbent, I love him/her.

Greetings from Istanbul
&nbsp
Have you been to Citadel, Ancient City and Fortress Buildings of Derbent? Share your experiences!