Whale Sanctuary of El Vizcaino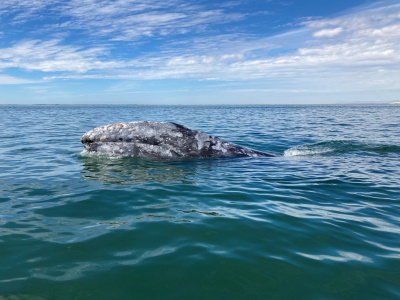 .
The Whale Sanctuary of El Vizcaino is a sanctuary for grey whales and other important species.
The Gray Whale is a whale that travels between feeding and breeding grounds yearly. A large population is travelling Pacific Ocean between the waters off Alaska and the Baja California.
In the fall, the California Gray Whale starts a 2–3 month, 8,000–11,000 km trip south along the west coast of the United States and Mexico. The animals travel in small groups. The destinations of the whales are the coastal waters of Baja California and the southern Gulf of California, where they breed and the young are born.
After several weeks, the return trip starts. This round trip of 16,000–22,000 km, at an average speed of 10 km/h, is believed to be the longest yearly migration of any mammal.
Reviews
Kelly Henry (USA):
This place is truly an off the beaten path treat! Although it is a bit difficult to reach, it can be easily seen along with The Rock art of San Francisco. This reserve is the winter home of more than 12,000 grey whales. They migrate here from the arctic ocean to give birth and enjoy the winter weather.

Vizcaino biosphere is best visited from Guerrero Negro, a small town about 450 miles south of San Diego in California. You can drive the entire distance on a good 2-lane highway.

The whales enter the salt lagoons in January and remain until Mid-March. The lagoons have a very high salt content (in fact, parts are a Japanese owned salt works that UNESCO worked hard to prevent expansion.) Females have their babies here because of a boost in floatation due to the saltiness. Entrance to the lagoons is strictly controlled but you can take a boat out into the lagoons for about 49 US dollars per person for 3 hours. Lots or tours are offered but you can just show up and join a small boat trip.

The boats quickly find the whales who are seemingly everywhere you look. They come right up to the boats and sometimes nudge them. The moms and babies swim together and you will assuredly see them jumping (breeching), diving, and generally playing.

There are about 7 or 8 modest hotels (don't expect much) and some great Mexican seafood restaurants in Guerrero Negro.
&nbsp
Have you been to Whale Sanctuary of El Vizcaino? Share your experiences!