Fort Jesus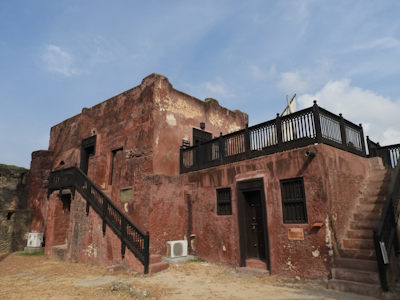 .
Fort Jesus, Mombasa is a Portuguese fort built in 1593. It was built in the shape of a man (viewed from the air), and was given the name of Jesus.
The fort was designed by an Italian architect, Jao Batisto Cairato, who was the Chief Architect for Portuguese possessions in the East. It was the first European-style fort constructed outside of Europe designed to resist cannon fire. Today, it is one of the finest examples of 16th century Portuguese military architecture, which has been influenced and changed by both the Omani Arabs and the British.
Reviews
Jorge Sanchez (Spain):
After the Immigration formalities at the border between Tanzania and Kenya I boarded a bus with some Maasai with their spears, to Mombasa.
We crossed the National Park Tsavo and saw many animals, such as hundreds of zebras, giraffes and monkeys.
Mombasa is an island united to the African continent. It was colonized by the Arabs, along with Zanzibar and Mozambique Islands, two centuries ago. From that island they sold slaves, elephant tusks and rhino horns.
In one of the main avenues in Mombasa there is the symbol of those times, consisting onfour huge elephant tusks.
Although interesting, I did not like Mombasa as much as I liked Mozambique Island, or even Zanzibar. The only interesting places were the historical lane of the old city, the Fort Jesus, erected by the Portuguese, plus the Indian atmosphere. I entered inside and spent a couple of hours admiring it. I can say that it was the only reason to stay for one day in Mombasa. In the evening I slept in a Gurdwara thanks to the hospitality of the Sikhs.
The next day I travelled to Malindi, the place where Vasco da Gama made friendship with a Sheikh that helped him to find his way to Calicut, in India introducing him an Arab pilot, expert navigator.
In Malindi I saw a pedrão that Vasco da Gama ordered to build. And next door I observed a chapel where Francisco Xavier buried several Portuguese soldiers during his journey to the Far East.
After those visits I crossed again the National Park Tsavo through the fantastic train journey Mombasa – Nairobi.
Date posted: September 2013
Have you been to Fort Jesus, Mombasa? Share your experiences!