Grand Pré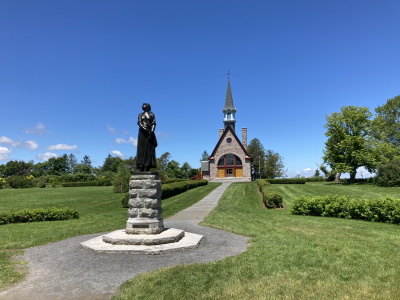 .
The Landscape of Grand Pré is a polder created for farmland by the Acadian community. Originally a Marshland inhabited by native Mi'kmaq people, the reclamation of the land was carried out in stages in the 17th and 18th century.
It is considered the best example of a historic polder in North America. It is still a living Cultural landscape of farming.
Grand Pré is also the place of memory for the Acadian diaspora. These descendants of the 17th-century French colonists were deported from here in 1755 by the British colonial officers.
Reviews
Janelle Bourque Hoffart (USA):
As a direct descendant of those deported in 1775, I finally felt like pieces of my life had come together and I had a real connection to my past. When I arrived at Grand Pre, I felt like I had come home. It was also a very humbling experience to walk where my ancestors lived and eventually left from.The land where I grew up in Louisiana had always been important since this is the area my family settled after leaving "Acadie". Now I know why. The beauty of Grand Pre was indescribable. It is a place I want to return to again.
Date posted: July 2012
Have you been to The Landscape of Grand Pré? Share your experiences!