High Coast / Kvarken Archipelago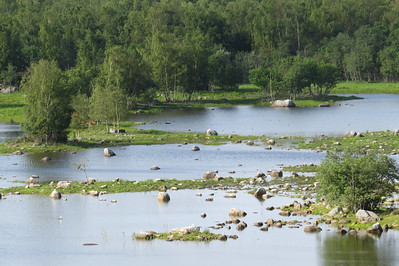 Photo by Lars Guvå (Highcoast.net)
The High Coast and the Kvarken Archipelago are outstanding examples of glaciation processes.
Both sites, on either side of the Gulf of Bothnia, hold numerous islands and islets. The High Coast is important for research on isostacy, in which the land rises as the weight of the glaciers melts off of it. This phenomenon was first recognised and studied here.
Kvarken features unusual ridged washboard moraines, "De Greer moraines", formed by the melting of the continental ice sheet, 10,000 to 24,000 years ago.
Reviews
John Booth (New Zealand):
I travelled down the High Coast of Sweden using the services of the #100 bus, from Ornskoldsvik, past Skuleberget, Docksta and Ullanger to Harnosand. But the highlight was going from Ornskoldsvik to Kopmanholmen by bus (#421), then cruising on the MF Ulvon to Trysunda, and to Fjaren and Ulvohamn on North Ulvon Island. The effect of the raising of the land is quite pronounced around the waterfronts of these small ports.


I cruised the Kvarken Archipelago aboard the mv Tirra and went ashore for lunch on Kuusisaari Island. This was a day long cruise from Vaasa's inner harbour costing 11 euros.
Date posted: May 2010
Fanch (sweden):
Hello!
A very nice place. Don't miss the smal fishing village, the mannamine museum and the Krevassen!

I changed the adress of the page : More pictures of Sweden
&nbsp
Have you been to High Coast / Kvarken Archipelago? Share your experiences!