Ibiza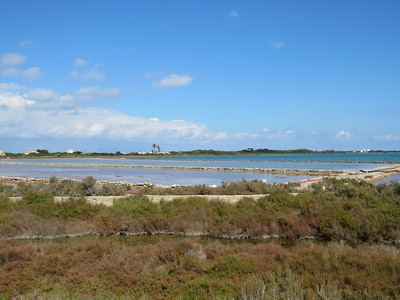 .
Ibiza, Biodiversity and Culture, is a mixed heritage site due to its shoreline, marine life, 16th century fortifications, Phoenician ruins and fortified Upper Town. It encompasses locations on both Ibiza and neighbouring Formentera.
The marine ecosystem along Ibiza's shoreline is notable for its well-preserved
Posidonia
, a kind of seagrass. A huge colony was discovered south of the island. At 8 km across and possibly up to 100,000 years of age, it may be one of the largest and oldest clonal colonies of
Posidonia
on Earth.
On land, there are many salt flats and salt marshes. They are an important habitat for waterfowl.
Ibiza was known as Ebysos during Phoenician times. It was an important harbour in the Mediterranean. Remains from that period include the cemetery of Puig des Molins and the Archaeological Site of Sa Caleta.
Reviews
Klaus Freisinger (Austria):
Surprisingly for many people, the holiday and party island of Ibiza has a wide range of historic and natural attractions that were somewhat randomly put together in one WH site. The major sight is Alta Vila, the historic centre of Ibiza Town. It sits on a high hill similar to the Acropolis and offers great views over the sea and the island. It is surrounded by a well-preserved city wall, and features several historic buildings, including the cathedral. Unfortunately, the archaeological museum next to it has been closed for budget reasons since January 2010. A short walk away, the Punic site of Puig des Molins has been closed for similar reasons since October 2010, although you can see quite a bit through the fences. The small archaeological site of Sa Caleta, on the coast near the airport, is also included, but there is really not much to see (only a small enclosed area with a few walls and stones). The natural component is the Ses Salines Nature Reserve, which covers the southern part of Ibiza, the northern part of Formentera, and the small rocks and seas between them. Taking the ferry between the islands gives you a good overview, and I also visited the Ses Salines beach on the southern tip of Ibiza, which includes walkways through pine forests and paths along the salines. I'm not sure if I saw any of the famous Posidonia sea grass, although it is entirely possible (hard to tell from normal algae). I arrived on Ibiza by ferry from Valencia, and spent 2 days on the island. I found this to be sufficient for sightseeing purposes, but of course, Ibiza has plenty of other attractions.
Date posted: September 2012
John Booth (New Zealand):
Eivissa town is very compact which made reaching the castle and cathedral atop D'Alt Vila easy despite the steep hill upon which it is situated. The necropolises and one remaining windmill of the Puig des Molins are similarly situated.
I took bus #11 out past the airport to visit the salt lakes of Ses Salines as well as the nearby sandy but shadeless beach.
Afterwards I took a #26 bus around the coast to Sa Caleta where I walked out to the cliff edge to visit the excavated Phoenecian village.
Date posted: March 2010
Roger (Brazil):
Well... Ibiza is my favourite place in the world, but mainly dueto its beautiful mediteranean beaches and top-notch nighlife. Sure it has some history too, but can you compare it to, say, a temple in Cambodja in terms of WHL-inclusion?
Date posted: February 2010
Elena Vera (Spain):
In 1999, the fortified Upper Town (Dalt Vila), the Phoenician settlement of sa Caleta, the Phoenician-Punic cemetery of Puig des Molins, and the Prairies of oceanic Posidonia of the Natural Park of ses Salines where declared World Heritage by Unesco. More information: Eivissaweb
&nbsp
Have you been to Ibiza, Biodiversity and Culture? Share your experiences!