León Cathedral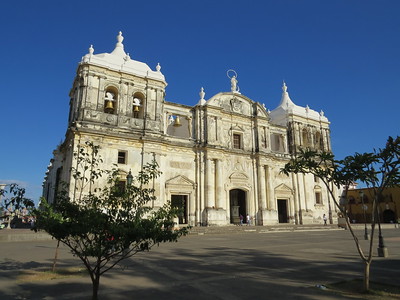 .
The León Cathedral is a typical colonial baroque building. It is one of the largest in Central America and, since 1531, one of the oldest dioceses in the Americas.
It was built between 1747 and 1814 in the regional Antigüeño Baroque style (originating in Antigua Guatemala). Because of the strength of its walls, it has survived earthquakes, volcanic eruptions of the Cerro Negro and wars.
Reviews
Joseph Colletti (U.S.A):
The cathedral, supposedly the largest in Central America, dominates the square and its massive walls are most impressive. Despite the citation's reference to natural light I found the interior dim and many of the paintings darkened by age. There are several other churches in Leon of note, though none approaches the size of the cathedral. The mix of styles may be more apparent to art historians than the casual visitor and those who have visited the silver and gold laden cathedral of Mexico City or the churches of Cuzco and Quito may be underwhelmed by the ornamentation of this cathedral.

The city of Leon itself is an interesting contrast to the more visited Granada, Leon's historical rival, in both its architecture and culture. (Unlike Granada, Leon was a battleground during the fight to oust Somoza in the 70s and there are many reminders of this struggle throughout the city.) It is well worth a visit.

There is frequent bus service from Managua and the ruins of Leon Viejo, another world heritage site are nearby as are some interesting "fumoroles" or steam vents from the nearby volcanoes.
Date posted: August 2011
Have you been to León Cathedral? Share your experiences!