Old Town Lunenburg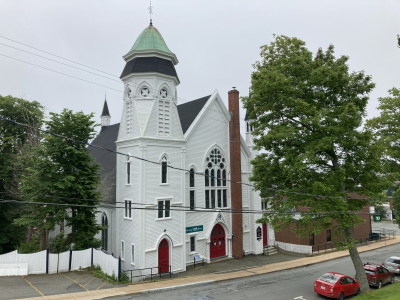 Distributed under the GNU Free Documentation License
Old Town Lunenburg, founded in 1753, is the best remaining example of planned British colonial settlement in North America. It was developed as a model town, with a rigid grid and wooden houses. The town grew into an important seaport and shipbuilding centre.
Lunenburg was named in honour of the King of Great Britain and Ireland, (George August of Hanover) who was also the ruler of Brunswick-Lunenburg. During the French and Indian War, several small forts which ringed the town were garrisoned by British regulars as well as by provincial troops from Massachusetts. These forts were erected to protect the town from raids by French warships and from attacks by the local Indians.
Reviews
Cynthia Webb (USA):
We visited Lunenburg in June 2010. Beautiful weather, beautiful town. We stayed in a bed and breakfast overlooking the harbor. Lots of lovely old buildings and atmosphere, with lots of little shops. The town is very accessible to walking, although it is built on a bit of a hill. For the inside scoop on the town, with lots of details about the history of the buildings and houses, take the horse-drawn carriage ride from the wharf. We also visited the fisheries museum and learned a lot about whales and fishing there!
Date posted: November 2011
Emilia Bautista King (USA):
I must say that I'm usually pleased with how Canadians take pride in their World Heritage Sites. Old Lunenburg is no exception. A lovely area in the old town (to the right of the town's bandstand) is dedicated to the site's inscription as a WHS, which includes the WHS plaque, the UN flag, and information about other WHS in Canada. A bonus is the playground next to this area. My kids played while I took pictures! Although hilly, it's easy to walk around the town. I saw many people mowing their lawns or just relaxing on the front porches. Enjoy looking at old homes with beautiful exterior colours!
Date posted: August 2011
Connie Hake (USA):
Dissappointing? No way! We happened to be there when the Blue Nose II came "home" for repairs- what a show! The whole town (locals and tourists) was on the dock waiting for her to arrive at dusk to cheering and applause! The locals are very proud of their schooner! And she is beautiful! Next day, we boarded for a tour- free of charge! The town of Lunenburg is beautiful, peaceful and gracious. Will definitely visit again!
Date posted: January 2006
Have you been to Old Town Lunenburg? Share your experiences!