Madara Rider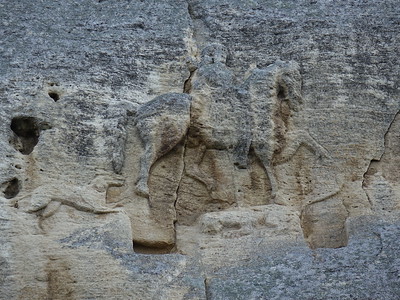 .
The Madara Rider is a large rock relief carved on the Madara Plateau east of Shumen in northeastern Bulgaria. The relief depicts a majestic horseman 23 m above ground level in an almost vertical 100-metre-high cliff. The horseman is thrusting a spear into a lion lying at his horse's feet. A dog runs after the horseman.
The monument is usually attributed to the ancient Bulgars, a nomadic tribe of warriors which settled in northeastern Bulgaria at the end of the 7th century and after merging with the local Slavs gave origin to the modern Bulgarians.
The monument is dated back to 710 and has been on the UNESCO World Heritage List since 1979.
Reviews
john booth (New Zealand):
The image of the Madara Rider is clearly important to Bulgaria; it is reproduced on all of its stotinki coins. Certainly the site appears to be revered by Bulgarians, who flock to see the engraving.
What is amazing is the location of the carving. How did the artists reach the site so high above the ground 1400 years ago?
I reached the site by train from Shumen to Madara village. The site is quite a hike uphill from there, followed by a long flight of stairs.
Date posted: December 2012
William Vallone (Italy):
I have visited the Madara site one week ago.
The horseman in itself is not such a wonder as you can imagine, but you can really percieve the flowing of millennia looking at it. The site is very quiet as all the Madara village and the sorroundings. You can walk to the rest of the site (caves, etc.) through paths in the vegetation. Many benches to sit all around and where meditate on history.
The Madara site is not far from the Madara railway station, you can easily walk there in 20-30 minutes.
Date posted: August 2008
Hamish Kirk (Bulgaria):
So little known outside Bulgaria ! This remarkable historical monument is a must for anyone visiting North east Bulgaria.

Visit the "Great Cave" in the summer when there are weekly symphony concerts.

For accommodation in the village contact Svetla or Hamish on 05313 2130 (00359 5313 2130)
&nbsp
Have you been to Madara Rider? Share your experiences!