Madriu-Perafita-Claror Valley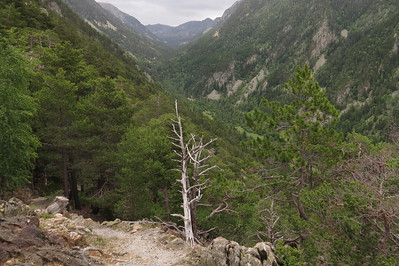 Photo provided by Joyce van Soest
The Madriu-Perafita-Claror Valley is a valley of glacial origin which drains the largest secondary basin in Andorra. It is a subsidiary of the main basin of the Eastern Valira and covers a surface area of 4247 hectares. It is defined by the river Madriu and by its most important tributary, the Claror i Perafita river, which converges at Entremesaigües. The river Madriu flows through 11.5 kilometres of land with an average gradient of 7.6%.
Reviews
John Booth (New Zealand):
I visited Andorra in July 2008, and also found little information about accessing the WHS at the Tourist Office. But I did find a minibus that went from Escaldes to Engolasters, a resort high in the mountains. From here there were a number of marked trails through the forest, one of which led to a viewpoint from where there was a panorama of the Madriu Valley.
Date posted: November 2010
Iain Jackson (UK):
I visited this site in August 2008. The weather was very pleasant with lots of sunshine and a cooling breeze at higher levels.
This site is also a National Park, which is (I think) co-terminous with the WHS.However I found no WHS plaque nor acknowledgement of its NP status.I saw no NP staff, nor interpretative material of any sort, only a very few footpath signs (tho' the system of paint flash waymarks was mostly very good) and no signs of agriculture or forestry. What few buildings there were seemed to be abandoned and there appears to be no public vehicular access.
This is a cultural site but nothing seems to be done to tell the visitor what (s)he is looking at.
Given the Andorran predeliction for covering all available land with shopping centres and/or ski resorts the cynical might conclude that this area was recognised as too remote and too steeply sloping to have any such potential and therefore designated as a NP and WHS in the hope of bringing in the tourists and their money that way.
To try and get a feel for the site I had decided to follow a route which a leaflet from the Tourist Office told me had a Difficulty rating of "Medium to High" and involved a climb of 970m. With an hours walk at the beginning and end to and from Escaldes to the Start point I anticipated quite a tough day.
Having been a bit grumpy so far in this review I want to say that I thoroughly enjoyed the day. Unsurprisingly the early part requires a long slog upwards, made pleasant by the attractive mixed woodland thro' which one passes. At Entremesaigues I took a right turn into the smaller Perafita valley, eventually emerging from the trees into the sunlit uplands. Here there are two refuges, both pretty squalid, and from where my onward route was not clear. Fortunately 4 other walkers arrived with a good map and pointed me in the right direction. At this level the sight of marmots and their surprisingly loud squeaks can be enjoyed.
Continuing up to 2450m, the highest point on my walk, I saw lots of wild(ish) horses and then began the steeper descent into the Madriu valley. From here an easy route follows the river all the way back to Escaldes
Here I was happy to relax with a beer or two in a friendly cafe before getting the bus back to my lodging.
So, to summarise I had had an uplifting trek thro' beautiful and almost deserted, scenery (which I'd whole-heartedly recommend) but I'd have learned more about the changing way of life in a marginal upland area from a day's walk in the North Pennines.
Date posted: December 2009
Have you been to Madriu-Perafita-Claror Valley ? Share your experiences!