Mausoleum of Khoja Ahmed Yasawi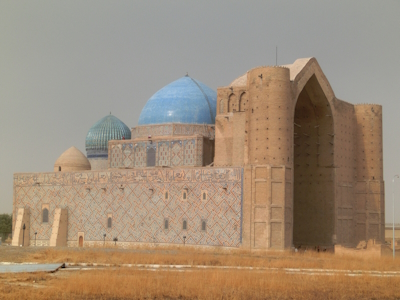 .
The mausoleum of Khoja Ahmed Yasawi is an Islamic religious monument built in the Timurid architectural style.
Khodja Ahmed Yasawi is the most prominent religious figure in the history of Sufism (a mystic movement in Islam). He also was a poet and philosopher. He died in 1166 or 1167 (some sources say 1146), and was buried in a small mausoleum attracting many pilgrims.
It was Timur who erected the immense mausoleum over the burial vault of Ahmed Yasawi in the 14th century. In fact, the "Mausoleum" is more like a multi-functional building: a meeting hall, a mosque, an archive and with rooms for the serving staff. It's situated in the town of Turkestan. After the death of Timur in 1405, the buildings remained unfinished.
Reviews
aigerim kabdiyeva (kazakhstan):
Anyone who visits the mausloeum fells dwarfed by the magnificence of the building and the atmoshpere of spirituality which pervades the structure. When I visited the site entrance was free.If you are in the city of Turkestan you will not have problem finding the mausoleum ,because all taxi drivers, actually everyone knows where it is.Once you are there, you should defninitely go inside and visit all the chambers including the burial-vault, which is preceded by wonderfully carved doors. Be sure to visit the chamber with a well. Khoja Ahmed Yasawi spent last years of his life in this well, because he didn't want to live longer than the Prophet.
Date posted: November 2005
Have you been to Mausoleum of Khoja Ahmed Yasawi? Share your experiences!