Mount Carmel Caves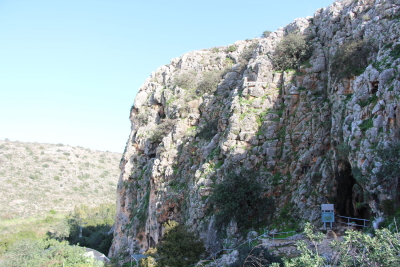 Photo thanks to: Philipp Peterer
The Mount Carmel Caves are four cave sites that testify to more than 500,000 years of human evolution. They are situated on a cliff in the Mount Carmel range.
The caves included are:
• Tabun Cave (where a complete skeleton of a Neandertal woman was found)
• Jamal Cave
• El-Wad Cave
• Skhul Cave
They were first excavated in the 1920s and 1930s.
Reviews
Philipp Peterer (Switzerland):
The Carmel caves are an easy WHS to tick off. They are conveniently located close to route 4 and make a nice stopover when travelling between the WHS of Tel Aviv and Haifa. As for all fossil sites, don't expect to see much. There are a few descriptions, a few stone age tools, a film and in one of the 3 visible caves some puppets, recreating the live in the cave. But the landscape is nice and the caves are really easy to reach. You can enter one of them; the others are seen from the outside. About half an hour should do it to visit the site.
Date posted: January 2013
Assif (Israel):
The Carmel caves are the only site where both Homo Sapiens and Neanderthals have been found side by side. Despite its historical significance there is really not much to see for the casual visitor. Access is only in guided tours where you get explained about the history of the digging and can watch a film about how people lived in these caves. The entire tour takes about half an hour. Most interesting findings like bone jewelry and stone utensils are on display in the small museum of prehistory in the nearby city of Haifa (where you can also visit the WHS Bahai Gardens).
Date posted: September 2012
Have you been to Sites of Human Evolution at Mount Carmel: The Nahal Me'arot / Wadi el-Mughara Caves? Share your experiences!