Pyrénées - Mount Perdu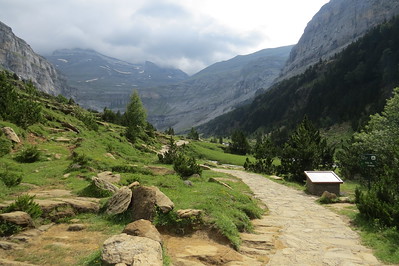 .
Pyrénées - Mount Perdu contains a scenic (agri)cultural landscape at the third highest mountain in the Pyrenees.
Mount Perdu or Monte Perdido is the centrepiece of the Spanish Ordesa y Monte Perdido National Park which was established in 1918 with just 21 square kilometres of land. Today the park has grown significantly to 156 square kilometres and incorporates the whole of the Añisclo Canyon.
There are more than 1500 species of flowers, 171 birds, 32 different mammals and 8 types of reptile in the Ordesa. Most magnificent of all is the Lammergeier (Bearded Vulture) with a 3 metre wingspan. The Pyrenees is one of the rare places to see these birds in Europe.
Reviews
Roger (Brazil):
WHS-collectors should do this beautiful hike first: from the eastern end of the Pradera de Ordesa, cross Río Arazas and climb steeply up through the woods on the valley's south side. This hardest part, called "Senda de los Cazadores" (Hunter's Path), in which you ascend 600m, takes an hour. Then it's level or downhill all the way along the high Faja de Pelay path to the 'Circo de Soaso', a rocky balcony whose centrepiece is the Cola de Caballo (Horsetail) waterfall. Return by the easy path along the bottom of the valley, passing through several waterfalls. This circuit takes 7 hours, so bring those picnic sandwiches and mineral water. (Summer 2010)
Date posted: July 2010
John Booth (New Zealand):
The scenery in the Ordesa Valley I found reminiscent of that of Yosemite: high rock walls with numerous waterfalls. I reached the park by travelling by bus from Sabananigo (on the Jaca to Zaragoza rail line) to the attractive village of Torla. After paying the 4.50 euros to enter the Ordesa National Park I boarded the free bus that stopped first at the visitor centre at the entrance to the park, then at the Pradera car park inside the park. This is the starting point for a number of walking tracks around the park. By following the Rio Arazas to the WHS plaque I reached the view of Mount Perdido.
Date posted: April 2010
Michel Ducourau (association MPPM) (France):
We have done a web site for the Mont-Perdu (French, Spanish, English) at the adress: "www.mppm.org".
You can also see what is our association MPPM (Mont-Perdu Patrimoine Mondial)
&nbsp
Have you been to Pyrénées - Mount Perdu? Share your experiences!