Mtskheta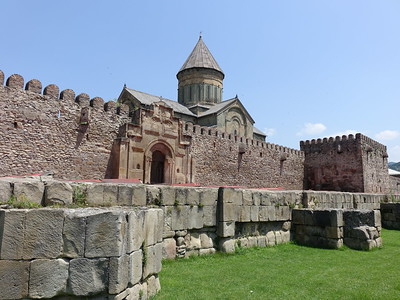 .
Mtskheta was a capital of the Georgian Kingdom of Iberia during the 3rd century BC - 5th century AD. Here Georgians accepted Christianity in 317 and Mtskheta still remains the headquarters of the Georgian Orthodox and Apostolic Church.
Svetitskhoveli Cathedral (11th century) and Jvari Monastery (6th century) in Mtskheta are amongst the most significant monuments of Georgian Christian architecture. In Mtskheta can also be found the Armaztsikhe fortress (3rd century BC), the Armaztsikhe acropolis (dating to the late 1st millennium BC), the fragmentary remains of a royal palace (1st-3rd century AD), a nearby tomb of the 1st century AD, a small church of the 4th century, the Samtavro Monastery (11th century), the fortress of Bebris Tsikhe (14th century), the Institute of Archaeology, and the garden of Mikheil Mamulashvili.
Reviews
Emilia Bautista King (U.S.A.):
I travelled to the Soviet Union in 1990. Georgia was part of the tour and Tblisi was my favourite city to visit, as the people were warm and friendly. We had also been to the hectic city of Moscow beforehand and the slower, peaceful pace of Tblisi was a welcome change. I don't remember much about Mtskheta but I have pictures of the site to prove I was there. But I do remember eating some wonderful hot bread (similar to a baguette) after the tour!
Date posted: February 2006
Paul Tanner (UK):
Mtskheta is the ancient capital of Georgia and its Cathedral is the "capital" of the Georgian Church and the burial place of Georgian Kings. It only lies around 25kms outside Tblisi and, if you are in the country, should be seen. It is probably best taken in as part of a trip along the Georgian Military road towards Russia.

On the other side of the river, and easily accessible if you are coming from Tblisi in your own transport lies the Monastery of Djvari. This provides fine views across the valley to the town and cathedral which dominates it (photo).

The Cathedral is pleasant enough but, in my opinion, lacks the interest and fine siting of some other "churches" in Georgia – in particular Gelati (which is a WHS – see review) and 2 more which you can see along the Military road. These are (neither is even on the Tentative List)
a. The "Fortress Monastery" at Ananuri – beautifully situated by a lake (the dam which created this reservoir was, we were told, going to flood this church but, even in Soviet times, enough pressure could be brought upon the government to prevent this). It also has fine murals.
b. The Mtatsminda Zameta (Church of the Trinity) high on a windswept hill above the village of Kasbegi looking out to the snow capped peak of Mt Kazbeg (5033 mtrs). This is only accessible by foot or 4x4.
&nbsp
Have you been to Historical Monuments of Mtskheta? Share your experiences!