Pasargadae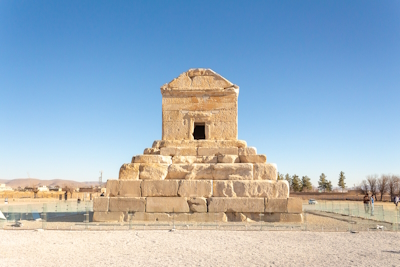 .
Pasargadae was a city in ancient Persia, and is today an archaeological site.
Its ruins lie 87 km northeast of Persepolis and was the first capital of the Persian Empire. The construction of the capital city by Cyrus the Great, begun in ca. 546 BCE.
The most important monument in Pasargadae is the tomb of Cyrus the Great.
Reviews
Messy (USA):
On our way from Shiraz to Istfahan, we stopped at the tomb of Cyrus in Parsagad. there were some bas reliefs of a guy in a fish suit and a few other minor things, the city Cyrus built there was mostly made of wood, and that all rotted away ages ago. But the tomb itself was made of stone, and because the locals claimed that it was the tomb of Solomon's mother, it had survived the vandals. I noticed that someone had left a bouquet of flowers on the stairs leading up to the entrance in tribute.

I was touched.
Date posted: July 2012
Oliver van Zon (Netherlands):
Iran has many beautiful names and often places all reminiscent of past grandeurs, Pasargadae being one of them. This is a city whose influence and historical signifcance was on a par if not rivalled that of Persepolis. Today it is very different though.

With the best of intents we tried to imagine what was once there using the (well done!) signs and drawings at each site, but it was tough and beyond what we were creatively capable of. Yes, it was a dissapointment after the many hours it took us to get here. Fortunately Iran has countless other historical, natural and religious sites no to mention the local hospitality that made us rapidly forget our visit.
&nbsp
Have you been to Pasargadae? Share your experiences!