Queretaro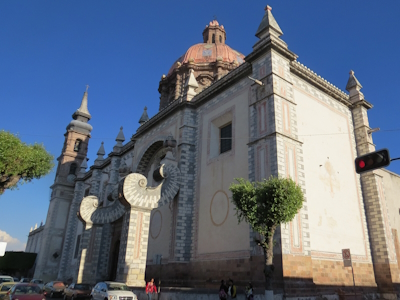 .
The Historic Monuments Zone of Querétaro is a well preserved Spanish colonial town with its specific 17th century street plan and a number of 18th century rich post-Baroque monuments. The layout of the town was split in two: a rectilinear street plan for the Spanish settlers, and small winding streets for the quarters of the indigenous population.
The most prominent feature of the city is its enormous aqueduct, consisting of seventy five arches, each twenty meters wide with a total extension of 1,280 meters and an average height of twenty three meters. It was built by the Marquis Juan Antonio de la Urrutia y Arana between 1726 and 1738.
Reviews
Paul Tanner (UK):
Queretaro undoubtedly has a pleasant city centre. Its calmness belies its situation at the heart of a growing conurbation of over 1 million people. That said, in terms of suitability for UNESCO inscription, I regard it as the "weakest" of the inscribed provincial historical cities in Central Mexico which we have seen. And (whilst not being the ultimate arbiter on such matters!) Michelin only grants it 2*, (together with Zacatecas and Morelia) compared with 3* for Guanajuato, Puebla and Oaxaca.

The "edge" which Queretaro claims over other Colonial "Centros historicos" lies (Quoting from the ICOMOS evaluation) in its being a "remarkably hybrid town". We are told that "some commentators talk of a harmonious way of life or cohabitation between the 2 cultures". Apparently 2 distinct layouts can be seen in the city's plan – 20 blocks on the Spanish side of rectangular grid and 30 blocks on the indigenous side with curved and irregular streets! This, we are told, foreshadowed "the bicultural Mexico of today and the emergence of a new form of coexistence in the New World" Hmmmm? I am afraid I regard this as a lot of politically correct wishful thinking! I can see the slight differences in street layout on the map but, as we walked around, the distinction certainly didn't herald any great change in atmosphere. In any case would it justify inscription even if it did?

The centre possesses a number of attractive buildings but Michelin identifies only 3 structures as justifying 2*.
a. The St Rose of Viterbo church. This is indeed an impressive structure from inside and out. It is situated a few blocks away to the SW of the main historic area and should be visited – its massive flying buttresses are particularly striking.
b. The cloister of the Art Museum (photo 1). This building was originally a monastery and the caryatid statues are worth looking at in detail
c. Its most famous structure - The Aqueduct. (photo 2). This was built around 1726 at over 1 km long. It isn't absolutely clear whether it is included in the definition of the "city centre" but I guess it must be. It now sits in the middle of a busy 4 lane highway and is clearly heavily restored but still manages to impress as a fine piece of civil engineering. The problem of water impacted a number of the new cities in Mexico - Morelia and Zacatecas each has its own Aqueduct remains but none is as "complete" as Queretaro's.

There are a number of other interesting buildings. We rather liked the "Casa de la Marquesa" – a lovely mansion in Moorish style now a Boutique hotel" But, generally, apart from the Aqueduct, the city buildings are relatively "low key".

POST SCRIPT
Even in 1996 ICOMOS didn't seem 100% convinced :- "The case for the inclusion of Queretaro on the World Heritage is a strong one by virtue of its original unique town plan and the quality of its buildings. The nomination does however raise the general problem of Spanish and Portuguese colonial towns in the Americas, a number of which figure in Tentative Lists submitted by states parties in the Americas" ICOMOS then recommended a "Comparative analysis" of such towns to help it in considering the many others which it could foresee! As far as I can make out, this eventually emerged in 1998 as a report – "The Urban Architectural Heritage of Latin America". Written by an Argentine, it foresaw a very large number of towns across Latin America being inscribed (including 6 or 7 in Mexico)!! I found it inconclusive, poorly argued and somewhat muddled. I particularly liked the following phrase "In this case it would be sufficient to restrict the criterion for nomination to those towns that maintain high standards of excellence with regard to the heritage and which could also be integrated into a cultural tourism circuit". This perhaps proved too open ended for ICOMOS and it seemed to get no further! It was, in any case overtaken by 2004 document "Filling the Gaps". From that long document I select 2 quotes
a. "In Latin America, there is relative abundance of references to the Spanish colonial period, while some of the indigenous cultures are still not represented".
b. "All States Parties should be especially rigorous in their selection of certain well-represented categories of property"
I suspect that Latin American colonial towns might find it a bit harder in future to gain inscription and that Queretaro did well to get in when it did!
&nbsp
Jessie Lang (USA):
Querétaro is a beautiful colonial city, and very important in Mexico's history, but few North Americans seem to know of it. It is a big city—approximately 1,000,000 people—but the historic part is charming and doesn't feel crowded. There are lots of tourists here, but they are from other places in Mexico. One young man in the Dept. of Tourism spoke English, but the people in the little information kiosks scattered around the plazas did not.

People here are very proud of their city and love living here. The motto is Querétaro es Mejór (Querétaro is Better) and they live up to it. It is one of the cleanest cities I've ever been in. Street sweepers in orange jackets are everywhere. There is no litter.

Streets in the historic district are all one way and most are very narrow. The little cobblestone streets gave me a false sense of security, and I almost got run over before I realized that traffic is constant, and moves fast. Until I got the hang of crossing the streets safely, I would get next to Mexicans and follow them across.

Except for the cars, I felt perfectly safe and I walked around by myself until 10 or 10:30 some nights. There were always lots of people around at all hours, including families with little kids.

Jardín Guerrero is a paved city block with a large fountain in the center, ringed by trees and wrought iron benches. The trees are close together with their foliage touching, and they trim the top and bottom branches in a straight line. The effect is like looking at a big solid hedge that is 8 or 9 feet off the ground.

The giant Santa Clara church, just a block from Jardín Guerrero, has a miniature plaza in front of it—a paved area with a few more trees trimmed into square shapes, some benches, and an elaborate marble fountain.

Jardín Zenea is one of the main plazas, and it is really beautiful. There are lawns, masses of flowers, ornate benches and a nice bandstand. The trees in this plaza are trimmed into more of a mushroom shape instead of squares. There is live music several evenings each week. On Sundays an orchestra plays dance music for the older crowd. The Templo of San Francisco, a big pink church, is across the street.

Plaza de Armas (Independence Square) is older—it was built in the 18th Century, and is surrounded by beautiful colonial buildings. The Casa de la Corregidora (Governor's Palace) is across the street. It is now the seat of state government.

The Plaza de la Corregidora has a monument to this woman (the magistrate's wife) who risked her neck to warn the resistance army about Spanish military plans. Her husband had her locked in her room at the time, but she managed to pass a note through a keyhole. Her statue was erected for the centennial celebration of Mexico's independence from Spain. Restaurants with outside seating ring the plaza. They all have live music, and each musician is playing something different.
&nbsp
Jorge Giraldo (United States):
Queretaro, beautifull city. When you talk about Queretaro, you are talking about one style. The baroche of Queretaro is different from others...maybe more exquisite, tasteful and deeper. Queretaro had been a baroche laboratory. Santa Rosa de Viterbo Churche is a great sample of that. One of the nicer buldings in Latin America is the San Agustin convent, today a museum. Divine......exquisite, refined.....
The waterduct with the colection of urban funtains give the city an especial atmosphere.
Date posted: March 2006
Have you been to Historic Monuments Zone of Querétaro ? Share your experiences!