Redwood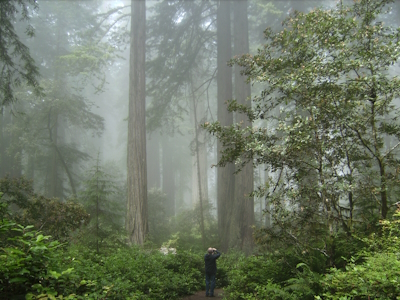 .
Redwood National and State Parks protect 45% of all remaining Coastal Redwood old-growth forests, the tallest and one of the most massive tree species on Earth. The park also contains the tallest known tree in the world at 112.1m.
The coastal redwood forest forms an unique and diverse resource: redwoods are surviving remnants of groups of trees that were once found throughout many of the moist temperate regions of the world.
Threatened birds encountered here include the endangered brown pelican, southern bald eagle and American peregrin. Over 40 species of mammals have been documented, including the black bear, mountain lion, bobcat, beaver, river otter, black-tailed deer, elk, and coyote. Along the coastline, California Sea Lions, Steller Sea Lions and Harbor Seals live near the shore and on seastacks, rocky outcroppings forming small islands just off the coast. Dolphins and Pacific gray whales are occasionally seen offshore. Roosevelt elk are the most readily observed of the large mammals in the park.
The designated area also includes three California state parks: Jedediah Smith, Del Norte Coast and Prairie Creek Redwoods.
Reviews
Kyle Magnuson (United States of America):
Following the previous days 11 hour drive from Los Angeles, visiting Redwood National Park is a challenge because of its remote location. (5 hrs drive north from San Francisco) Nevertheless, having the privledge and opportunity to visit such an ancient coastal Redwood forest was without a doubt a worthwile experience. What sets Redwood National Park aside from other California National Parks that have old-growth forests is the diversity of landscape. For those wanting to stroll around ancient trees, visit the Lady Bird Johnson Grove. During the morning fog, this grove is something you will never forget. There are numerous other groves throughout the park, but to provide the full picture of this incredible ecosystem visit other areas as well. I would recommend hiking Fern Canyon Trail, a fairly short hike that follows a small stream amidst vertical vine/fern covered canyon walls. Furthermore, there are over 50 km of coastline in the park. Enjoy a perfectly empty California beach in the summer! This is another unique aspect of Redwoods National Park, it recieves a fraction of the visitors compared to Yosemite or Yellowstone. Large areas of prarie are also found in the park, and it is not uncommon to spot a herd of Elk grazing. Redwood National and State Parks is one of the United States best national parks and a worthy world heritage site.
Date posted: May 2012
kainen (us):
I took my annual pilgrimage up Highway to revisit one of my favorite places to be on the planet that is Redwood National Park. The feeling i got while wandering through old-growth redwood forests. Everything is so big, misty, and primeval that you can't help but expect to spot a dinosaur munching on giant ferns. California contains the most spectacular redwood forests in the world—including the world's tallest trees—yet it always amazes me how few Californians have experienced one of nature's grandest displays. www.wildlifeworld360.com
Date posted: April 2011
mic (USA):
I lived and worked in Redwood National Park. I miss it, my home that I may never get to see again. I will always Love and Cherish my time in the Redwoods.
Date posted: October 2005
Ben Pastore (USA):
This unique forest environment is well worth the time and residual neckache to see in person, otherwise the concept of scale just can't be fully transmitted. These giants are more than just tall, they're monumental. Feeling small is part of the fun as you gaze upward, though the rest of the scenery merits a look down now and then. Among the world's oldest living things, these trees more than deserve their place on the list.
Date posted: June 2005
jaxon nobori (USA):
A walk among the redwoods, and a sore neck from cranning to see the tree tops. The redwoods create their own micro-environment so insects can thrive among the giants. For these tress, fire is a good thing, otherwise they won't drop their seeds.
&nbsp
Have you been to Redwood National and State Parks? Share your experiences!