Robben Island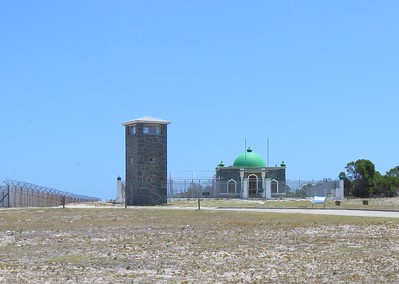 Photo by Adrian Lakomy
Robben Island has been used to isolate certain people since the end of the 17th century. It is an island in Table Bay, 12 km off the coast from Cape Town. The name is Dutch for "island of seals". Robben Island is roughly oval and about a kilometer wide. It is flat and only a few metres above sealevel.
From 1836 to 1931 the island was used as a leper colony and in the 20th century it became infamous as a gaol for political prisoners under apartheid. Notable amongst these were Nelson Mandela, Walter Sisulu, Tokyo Sexwale, Govan Mbeki, Dennis Brutus and Robert Sobukwe.
During the time that the island was a prison, security was very tight and it was off limits to almost all civilians, including fishermen.
Reviews
Chris Nielsen (South Africa):
I first visited Robben Island in 1994 and was impressed. However, re-visiting it last year (2008) I was bitterly disappointed with the amount of neglect and dereliction that had been allowed to occur there. Certainly the prison has been well-looked after and restored, but the rest of the island verges on the appalling. The guide we had on our tour did nothing but rattle on in her own dreadful version of Afro-glish about Robert Sobukhwe (about whom most of the foreigners on the bus knew nothing) and scarcely made mention of Mandela. We were taken to a rubbish dump from which there was a good view of Cape Town and told that we could take pictures. However, the fortifications and the penguins were utterly lacking from the itinerary and were never mentioned. It struck me that it was an awful pity that such an interesting place had been allowed to reach such a state of dereliction and scabbiness.
Date posted: April 2009
Adrian Lakomy (Slovakia):
First to say it was a fight to get there :) If you want to visit Robben Island (translation from Dutch - Seal island)they really recommend to make a reservation in advance - pls do it! I sent my reservation on Monday in order to visit the site on wednesday, but the answer was "We are fully booked till saturday". I was quite sad as next day was my last one in SAR. So i agreed with the cashier that if there would be any cancellation, I would take it. I had luck :)
The site consists of two locations - the Nelson Mandela Gateway (+ Jetty 1) which is on mainland. There is a museum and and a port. In the museum there is a small cinema where former prisoners are speaking and singing - it is very emotive. The boat trip to island takes about 30 minutes. If you step out on island you will see the main gate with sign "Robben island welcomes you - we serve with pride". Then you are taken by a bus trip around the island where you can see the village, school, temples, prison for criminals, some shipwrecks, lighthouse and a cannon battery. The guide in a bus was a very funny guy who at least made some humour in this sad place. We visited also the "University of Robben island". It is a small cave in lime quarry where the political prisoners were teaching one another. When the guardsmen caught them, they were punnished.
Next part was a visit of Maximum security jail - thats the part where the political prisoners were held. Ironic is the jail was built by the prisoners itself. All the sectors A-F are ground floor buildings. A-F were cells for one prisoner, D-F were big rooms for 80 prisoners. None of the sector was comfortable. Each guide here is a real polictical prisoner, so you get the info from first hand and its best for you in order to ask a lot of questions.
The place is not a beauty site - but you can feel all the bad what happened there - I had a lot of to think about when we finished. If I do recommend this site? - yes, for sure.
As a bonus: on the island is the second greatest African penguins colony in SAR.
Picture: Prison from outside with our political prisoner as guide
&nbsp
Have you been to Robben Island? Share your experiences!