Saloum Delta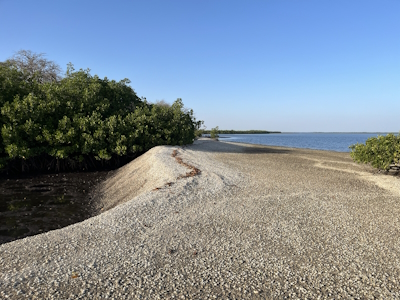 .
The Saloum Delta is representative of a traditional coastal lifestyle of shellfish gathering and fishing. The site is marked by 218 shellfish mounds, some of them several hundreds metres long, produced by its human inhabitants over the ages. Several of them hold funerary sites (tumuli). The oldest shell mound dates from 400 BC, the creating of tumuli occurred between the 8th and the 16th century.
The area, which is also a Ramsar Convention site, lies within a 180,000-hectare biosphere reserve within the delta of the Saloum, Diombos and Bandiala rivers. Waters comprise 61,000 hectares of the park, intertidal mangroves and saltwater vegetation cover 7,000 hectares, and savanna and forest cover 8,000 hectares. It lies on the East Atlantic Flyway.
Reviews
Tony (België):
We had our hotel in Toubakouta in the Saloum Delta. From there we did a bird walk along the river. Also a boat trip in the evening to see the birds come back to their sleeping place.
Date posted: May 2014
Have you been to Saloum Delta? Share your experiences!