Sian Ka'an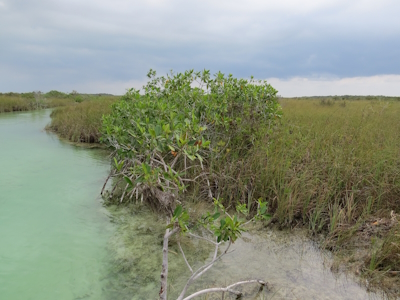 .
Sian Ka'an is a biosphere reserve in the coastal lowland, with land that is frequently inundated. Part of the reserve is on land and part is in the Caribbean Sea, including a section of coral reef. It is located in the state of Quintana Roo, Yucatan peninsula.
Five species of cat are found in the reserve, including the jaguar and puma, as well as the tapir and a wide range of bird species.
The reserve also includes some 23 known archaeological sites of the Maya civilization including Muyil.
Reviews
Marcia (Mexico):
I own Mayan Beach Garden Inn, the closest hotel to the Southern entrance to the Sian Ka'an and I love it there, finding every excuse to visit. When we built our Inn here, I had no idea such a remote and wonderful place existed. The beaches are amazing and you can experience the opportunity to be truly alone on the beaches. Many comments above have spoken to the tragedy of the plastic on the beaches. The Southern part of the Yucatan peninsula suffers from an extraordinary amount of garbage coming up from Central and South America. By the time the currents make it to Cancun, much of it has been raked up by caretakers along the way, leaving the Sian Ka'an to fend for itself. While we can read the labels on the bottles and see that the garbage is coming from the likes of Columbia (50%), Venezuela and Honduras (25%) and the remainder from boats (including cruise ships), it is a world wide problem solved only by minimizing single use plastic. Just this week, some large ship dumped an exorbitant amount of plastic forks, lids, plastic cups and shredded pieces of styrofoam. The small pieces mixed in with the sea grass, making it all but impossible to clean up. I don't mean to be on a soap box - but the exquisite beaches in the Sian Ka'an deserve to be clean. The sea deserves to be clean and only by using less plastic can it happen. Every visit should include a plastic bag to take some of the garbage away from the beach. It won't even make a dent, but maybe that is a bit less plastic in the stomachs of the thousands of species that find themselves living in the Sian Ka'an. By the way, the roads in the South entrance are better than the road to Punta Allen, if only because there is less traffic and the road was graded April of 2011 and don't miss Boogie Board beach or the Shipwreck. Pick up "napkin" maps at Mayan Beach Garden Inn.
Date posted: October 2011
Harold J. Tanguay (U.S.):
South bound to Punta Allen in March 10 of last year (2010) I want to go back is the best thing I can say about the place. No crowds! Endless beaches! Animals scurrying about and dodging your vehicle as you drive the pothole road south! ONE BIG ISSUE! The beaches have an accumulation of plastic and that was about the only thing that disappointed me. It would be great if folks could get together down there and form up cleaning squads to comb the beach and clean up the plastic. If you are a college student that wants to get something going this is a job of gargantuan possibilities! We met some awesome students from South Carolina who were down there for Spring break working and having fun too. Fantastic group of young people who cared about what there Spring break could do. The material combed off the beach could be sent to a recycling facility or just destroyed. The beaches would look so much better. We stayed at CESIAK and enjoyed ourselves immensely. The staff were so kind and they were very helpful to us "gringos". We spent several days driving down the peninsula and pulling off onto side roads that led to hidden sections of beach. Gazing north and south for as far as you can see along the beach-no people! Wow what a deal. I would fish from the beach and my wife would relax on the beach and read. We launched a kite and pitched the line in the sand and watched it float over the beach. We snacked on cheese/crackers and ice cold beer. The days were filled with endless hours of doing whatever you wanted. Spent some time in Punta Allen and enjoyed the little village. We are probably going to spend more time in Punta Allen next time. Kind of place that grows on you very fast. Just walk around town and get to now folks as the place is very small. Hang out in the small town square at night and talk to locals about what is going on. We are planning our next trip! Gotta go. Joe
Date posted: March 2011
Piero (Italy):
We went to the Sian Ka'an from the south entrance and there is only a beautiful beaches and Mangroves.
There aren't any lodging or restaurant in the south end of Sian Ka'an, but I had found a Hotel on the site www.mahahualhotel.com directly in the city of Mahahual.
The reserve is fantastic, crystalline waters and white beaches... it's proper for the people to which it likes the adventure. I have seen many birds and a lot of iguanas.
Date posted: December 2009
ricardo (canada):
sian kaan, the soul is borne here also, been down the punta allen road a dozen or more times over 7 years, always a new twist on something going on . this year the south end of 5-6 miles was freshly gravelled and packed so it was great, n th of bp bridge the washout and 2 miles was also being repaired, improvement appreciatted. lots of large dump truck traffic hailing in gravel, so use common sense. as always there is more plastic trash on the shore, progress and consumers that don't give a hoot, cruise ships and general pigs of the earth . still love the beauty and solitude of this eden. did see a 8 foot long snake on the road, it was black and extreme yellow alternating bands, finally slithered into the ditch when i got within 40 feet, looked at it briefly but no pic. be aware there are truly wild and potentially dangerous encounters ou there if you are not paying attention and aware of your surroudings, this is not the petting zoo or an amusement park, but man may be our most dangerous thing we encounter.
Date posted: May 2009
S. Toone (USA):
We went to the Sian Ka'an from the south. What is cool about the south entrance is that there is nothing but beach on one side and Mangroves and lagoons on the other. There aren't any hotels in the south end of the biosphere, but we stayed at mayan beach garden - www.mayanbeachgarden.com - and they made us some maps and packed us a sack lunch. They even gave us a shovel if we got stuck. We didn't, thank goodness, but we experienced one of the most beautiful beaches I've ever seen in my life. The beaches were varied too. We also snorkeled to a sunken ship. in every case, we were the only ones around. In one way, it was kind of unnerving to be the only humans there, in other ways it was the most spiritual experience I've been through. We went after Dean and there were no entry fees. According to the owners of Mayan Beach Garden the fees used to be $20 pesos a person, but the entrance was damaged by the hurricane and hasn't been restored (march 2008). We never made it all the way to Punta Herrera because we kept stopping along the way to explore the beaches. We were told that the town of Punta Herrera is one of the most secluded and last fishing villages of its kind with one restaurant and a little tienda. we were glad for the packed lunch because our explorations took up all of the day. We did see a group of peccaries (not sure of the spelling) crossing the road - they are like javelinas.
Date posted: April 2008
sheila dick (usa):
we showed up in the morning, rented a kayak and saw a lot of egrets, a crocodile and 2 stingrays. the best part of the trip was that we were the only human beings in the lagoon during the busy tourist season. the deserted beach was spectacular though littered with plastic trash. it's is a shame that the debris of the caribbean ends up on this remote stretch of beach
&nbsp
Niki Allen (United States):
March 20, 2008 The road to Punta Allen has been under construction since Hurricane Wilma in 2005. The trip takes about an hour from Tulum and was well traveled in a small car. The sights are beautiful and there are several places to stay in Punta Allen. It`s Semana Santa (Holy Week) and the town is packed. Normally it`s a small tranquil little place but with the road improvements it seems like everyone is going down the road! There are several new lodgings in the village but only Cuzan`s and Serenidad Shardon on the beach. The Let it Be Inn was sold a couple of years ago and the new owners have been unable to recover from Hurricane Dean so those cabaņas are closed. There`s a new Rapid Football Court in town that was spearheaded by an American from Colorado staying at Serenidad Shardon. The new library is also open and welcomes visitors. Still only 12 hours of electricity but the town is growing and will soon have 24 hours of electricity according to some of the locals. The entrance price to the park is still only 21 pesos and the bracelet is needed if you plan to go on the water. It`s a great "end of the road" place to be! My suggestion regarding the trash---take a bag out with you on your walk down the beach. If everyone did that, there wouldn`t be so much trash on the beach. We spent an afternoon at the point, filled a trash bag full of plastic and had a great time on our little piece of clean beach! Buen viajes!
&nbsp
Carol Pedraza (USA):
We went to Playa del Carmen in 2001. I have always wanted to see Sian Kaan. We rented a tracker from our hotel and we took the trip all the way down to Punta Allen. The road was so full of potholes and nothing but curves. It took us alot longer than we thought it would. We were running out of gas, but still could not see any little town. We drove, curve after curve, nothing in sight. Our gas tank was getting low and we were getting nervous. But, luckily, we came upon Punta Allen. It was beautiful and a welcome site. We watched from the pier as lobster cages were put down to catch lobsters. We were able to get gas there through a hose from a local resident. We did not find an actual gas station, but there was gas as the resident sucked on the hose and then filled our tank. We stayed there to eat in a local house/restaurant with two tables. It was the best fish and lobster I ever ate in my life. I wouldn't trade that memory for anything. Sian Kaan was beautiful and even though we were a little nervous because we were getting low on the gas, it was still an adventure I will never ever forget. We stayed in Punta Allen for about an hour and then begun our trip back to Playa del Carmen. We didn't arrive back at our hotel until after 9pm at night, but we had the trip of a lifetime! I want to go back someday, I want to stay at a little hotel and spend a few weeks just soaking up the beauty. My husband and I loved every minute of this trip, even though it was a little scary at times being alone and no place in site. I would never venture that trip alone. We are finally retired now and able to spend more time traveling. We will defintely go back to Sian Kaan again.
&nbsp
Melissa Ausman (USA):
We stayed at Rancho Sol Caribe last February/March (06) and it was the most beautiful place in my 5 trips to Mexico I've ever been to!! Miles and miles of deserted beautiful beaches, oh Lord, paradise truly! Michael and Diana, our hosts are gracious, friendly, fun loving people and really made our trip, we even got engaged there and hope to return for our wedding. Yes, roads are unbelieveable, major potholes, but just go slow, it is so worth the trip.... but maybe I shouldn't be telling you this. If you want wild Cancun, don't go to the biosphere, but if you want unspoiled, beautiful deserted beaches, gentle waves, oh, you won't want to leave and I can't wait to get back!! forget 5 star rating, this area gets at least 10!! LOVED IT
Melissa and Rick/ ketchikan, Alaska
Date posted: July 2006
T. Kane (USA):
Just a comment about the post that mentions the trash from previous campers on the beach. This trash is not from camping, it is what washes ashore from the ocean. Its pretty mind boggling when you see it, but most of the beaches along the caribbean there are groomed, raked and cleaned every day. In the Sian Kaan, there is no one to clean the beaches and what you will see is miles and miles and miles of the most gorgeous, soft white sand beaches ever, covered with trash. Mostly plastic; soda bottles, water bottles, flipflops, buoys, gas cans etc. I've spoken with environmental folks in the area and they said they have researched the trash and they have documented over 30 different countries. Supposedly alot of this trash is from illegal cruise ship dumping. I guess the way the currents run, it sends alot of this floating debris onto these beaches. Anyway, just a note. Otherwise, the Sian Kaan is an amazing place. Go enjoy it while its there because the density of tourists and hotels are creeping down from Cancun. Someday it will be all hotels I'm sure.
Date posted: April 2006
Kay (Canada):
I spent three months living deep in the Jungles of the Sian Ka'an Biosphere Reserve; it is an incredible place full of wildlife, birds and varying ecosystems. For the nature lover travelling in Mexico, it is an absolute must.

Sure the road to Punta Allen is a bit less traveled than the Trans-Canada or the I-5, but with a little spirit of adventure, a trusty scooter will take you all the way from Tulum in a gentle three hours. If driving at night, watch out for giant blue crabs on the road - they scream and snatch their claws if you get to close. Keep your balance in check if you are two and getting through the sand bars may require a short walk. Driving a scooter through the biosphere reserve was not only a great way to get intimate with nature, but is ecologically and economically friendly.

There are several companies that offer tours to the Biosphere, Ecocolors is a good choice, Cesiak, Sian Ka'an Tours, Community Tours in Tulum, and others if you look around. Maps are few and far between, but don't worry, the road doesn't branch the whole way from Tulum to Punta Allen, just go south on the coast road and stop along the way as you are surrounded by beauty. Being a small penninsula, you will see beautiful lagoons on one side and the warm Caribbean Sea on the other the entire way. Don't forget to visit the Visitors Center (9Km from the entrance)where you can climb the tower above the jungle and there will soon be a museum to offer more ecological information to visitors.

There are other entrances to the reserve as well, but I only made it to the Tulum entrance. Covering over 1 million hectares , I believe the reserve has something to offer everyone.
&nbsp
John (US):
Traveled to Sian Kaan last December 26th (2002). Made it down the road but it was a very difficult trip and I don't want to think about what could have happened had I broken down. Spent a couple of days with the native Mayans and some "continentals) from the US. Fishing was spectacular, and the reefs are enourmous, although I did not have time to snorkel, and the wind was rather bad. I went alone so it was somewhat of a "bummer" but would definately go back if I found someone else who had this type of adventure in their blood.
There are places to eat seafood in Punta Allan and places to stay at reasonable prices. Don't expect Cancun, you have to have adventure in your blood to like this type of experience.
&nbsp
Femke Rutten (Holland):
I have been to Sian kaan on a tour with EcoColors. This was an excellent tour! We crossed two lakes by boat and went through one canal made by the Mayas and one natural canal. We stopped at a small ruin. The guide explained that this ruin was either a post of commerce or a resting point. Then we jumped out of the boat and floated on our lifevests in the natural canal. This was a very nice and relaxing experience! We have done a small hike through the reserve and did some bird watching. We have also seen some more ruins. The park is very pretty and the boat ride was incredible! The company has also a tour of more days to Santa Teresa, the research station and I am thinking of joining the tour soon.
&nbsp
Tracy Wooldridge (USA):
I visited Sian Kaan with a tour group from Alltournative in a jeep in 8/01. It was really a fun trip although it had rained extensively the day before and parts of the road were almost totally flooded out. Luckily no-one in our group got stuck in the mud! Punta Allen was beautiful and we had lunch there and then snorkeling. Fantastic! We also explored some of the mangroves by boat. I highly recommend this trip.
&nbsp
Horace M. Hudgins (United States):
10/30/2002
Visited the area on that date by trying to drive south from Tulum to Punta Allen. The road increasing deteriorated to the point where we had to turn around after traveling only about 5 or 6 kilometers past the entrance into the reserve. I was afraid of the wear and tear on my rental mini-van. It is very densely overgrown and although we were probably no more than 100 meters, at the most, from the Caribbean on our left the water was not visible at all. At our turn around point we had reached what appeared to be an area adequate for camping as there were many signs that campers had used the area. It was a very pleasant sandy area shaded by coconut palms and extended down to the beach. Walking in the area was a tremendous disappointment as the remnants of past camping experiences was littered throughout the area. Trash was evident wherever you looked and although we were prepared to do some swimming were discouraged from doing so because of the filthy condition of the beach. Although we had registered our visit at the entrance no information or map was available except for a large map on a roadside sign. Would like to have gone further and will probably do so sometime in the future but will try to be better prepared with some sort of 4 wheel drive vehicle. We had tried to get information about the area in Cancun but were unable to find anyone who had personally been there and there didn't seem to be any sort of tour available. available.
&nbsp
Have you been to Sian Ka'an ? Share your experiences!