Skocjan Caves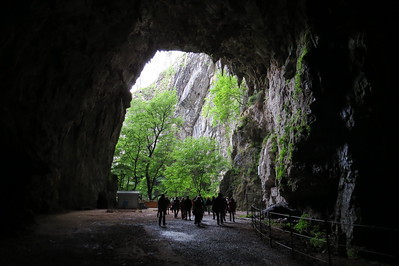 .
The Škocjan Caves are located in the Kras region (literally meaning Karst) of southwest Slovenia and are considered a well preserved unique example of Karstic erosion. Its inscription was favoured above the better known Postojna caves, which are larger and longer and have a richer fauna than Skocjan, but have been modified significantly by
tourism development and have much higher pollution levels.
The protected area of limestone caves extends over 200ha and includes four deep and picturesque chasms, Sokolak in the south, Globocak in the west Sapen dol and Lisicina in the north. It contains collapsed dolines, about 6 kilometres of underground passages, caves more than 200 metres deep, many waterfalls and one of the largest known underground chambers. It's also an important scientific site for the study of the karstic phenomena.
Reviews
john booth (New Zealand):
Besides the guided tour of the caves described by several people here, there is now a second route with an unguided tour which I followed. This can be done at any speed, and photography is allowed. Guides are located at strategic points along the route armed with radios to ensure that no one gets lost.
The caves on this route are much as described with sink holes, rushing streams, waterfalls and vertiginous bridges.
I reached the caves by shuttle bus from Divaca station. Trains from here go to Koper (for buses to Trieste and Porec), Sezana and Ljubljana.
There is a new inexpensive Italian style restaurant in Divaca where I had pasta while waiting for my train.
Date posted: December 2012
Ian Cade (England):
I was rather impressed with this magnificent cave complex and the wonderful surrounding countryside. Whilst I don't have a huge amount of knowledge to judge the quality of these caves compared to other examples on the World Heritage list, I can certainly say they were a spectacular site.

The first part of the guided tour takes you through a complex with various impressive examples of stalagmites/tites and other forms of dripstone. The guide did a pretty good job of explaining how, why and for how long they have formed; we were then led into another rather massive chamber.
After that came Europe's largest underground canyon. I wasn't really expecting it to be so remarkable, from the moment we entered it you could hear the water thundering below. After plucking up the courage I peered down to see it bubbling and gushing deep below me. The recently added bridge is rather magnificent and gives a wonderful sense of scale as you stare down at the huge drop below.

One thing I hadn't appreciated beforehand was how pretty the area outside the caves is. The exit from the underground section brings you to a very lovely gorge which looked at its very best in the bright early summer sunshine. The high temperature and mildly tight time frame meant I decided to ride the funicular railway back to the top; however on another day I think I would have enjoyed the 50 minute walk through the gorge, to see the rock arches and waterfalls up close. At the top there was another fine view point of the surrounding area.

The caves are located a short way from the tiny town of Divača, which had a free shuttle bus that coincided with the arrival and departure of trains to/from Ljubljana. If like me you are using public transport to get to the caves it is worth taking note that despite them being only 10 miles from central Trieste there are essentially no transport connections between them. So heading from Ljubljana is perhaps the easiest way, unless like me you want to sample the Tito-era frontier town delights of Nova Gorica. Apart from the free shuttle bus and a friendly if slightly down at heel bar, there isn't a huge amount to do in Divača, so I would recommend sourcing your food and drink at the slightly pricey but very tasty restaurant at the caves.

All in all I was really impressed with Škocjan, the underground trail was very impressive and above ground was a delightful surprise.
[Site 7: Experience 6]
Date posted: July 2012
Kathie Smith (Australia):
i have recently visited the caves. I was lucky that it was raining and the river was powerful with rapids. I was amazed at the size of the cave. I have never experienced anything so magestic. the guides where great and informative.
Date posted: May 2010
Klaus Freisinger (Austria):
Less famous than the renowned Postojna caves, the caves at Skocjan in southwestern Slovenia near the coast are certainly no less impressive and more important from a scientific point of view. They are the classic karst caves and are much less polluted than others, forming their own ecosystem and hosting several endemic species. Besides, they are extremely impressive, with huge stalactites and stalagmites, a river running through it and a mighty canyon with a footbridge 40 metres above the water that makes your knees shudder... The guided tour takes about an hour and a half and is pretty strenuous, since from about the halfway point it is mostly uphill over slippery steps. Despite this, a visit there is just fascinating and highly recommended.
Date posted: May 2008
Joyce (The Netherlands):

The caves can only be visited on a guided 2-hour tour where you will visit 3 kilometers of the total of 6 kilometers of tunnels and rooms filled with stalagmites and stalactites. The biggest chamber you'll visit (the largest one in the cave system is too dangerous to visit) is impressive. After the big chamber you will follow a path along the underground river, which is quite amazing, and a little scary too if you are afraid of heights. Finally you will end up in a little valley with it's own ecosystem.
The view from the viewpoint is spectacular with high cliffs and at the bottom a waterfall coming out of the caves and a small cliff-side village with a church.
Date posted: July 2006
Have you been to Skocjan Caves? Share your experiences!