Srebarna Nature Reserve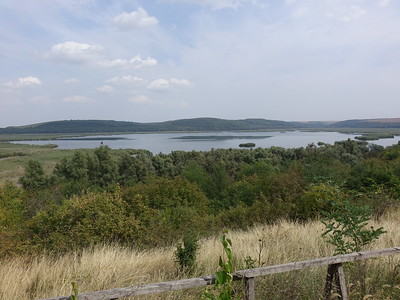 Distributed under the GNU Free Documentation License
Srebarna Nature Reserve comprises Lake Srebarna and its surroundings and is located on the bird migration route between Europe and Africa. It is located on the west bank of the Danube River.
Srebarna is a wetland habitat for about 180 bird species, both breeding and migrating. Among the most interesting bird species are the Dalmatian pelican, great egret, night heron, purple heron, glossy ibis and white spoonbill.
Reviews
john booth (New Zealand):
Bus no.22 from outside Silistra station dropped me at the Visitor Centre in Srebarna village.
After viewing the exhibits at the centre's museum I set of along several paths, one leading to the lake edge where fishing was in progress. Another path led northwards around the lake, affording views over the lake. At intervals were information boards with maps and details of the wildlife to be found in the vicinity.
Date posted: December 2012
phil campbell (Wales):
Yes ,there is no doubt about it that this place is worth a visit if nature is what you are about. The drive from Sofia which takes 5 hours gets nicer as you get closer to SREBARNA in fact the last 15km or so reminded me of parts of Wales (beautiful countryside. The place is looking tired but a new mayor has been appointed 6 months ago (Jan 2008) who is a local of the village and has set about 'tidying' the place up. A place to watch in the furture I think and that was why I bought property there overlooking the lovely lake !
Date posted: June 2008
Paul Tanner (UK):
I can conceive of only 2 reasons why a tourist would visit Srebarna, tucked away as it is in NE Bulgaria close to the Romanian border – either you are a keen ornithologist or a keen WHS collector. We fitted both categories and visited it in 2000.

The site, just south of the Danube, consists of a lake (formed from an old ox-bow of the river to which it used to be connected until a dyke was built) and an area of marshes where the land drops at the edge of the eponymous village. Most of it is a "Strict Reserve" and closed to visitors. However, the reserve has an Ecological Research and Visitor Station. The latter is a pleasant facility containing an exhibition of stuffed birds and a terrace with a reasonable view over the marshes When we were there the station was very quiet and perhaps a bit "tired" – the exhibits seemed aimed mainly at groups of school children/students who, no doubt, made up most of the visitors when it was built in earlier "Communist days". From the station a trail leads to a viewpoint overlooking a pelican colony – this is one of very few breeding sites for the Dalmatian Pelican. The scenery (photo) with its reed beds is vaguely reminiscent of the Danube Delta (less than 200kms away across the border) and the bird list is very similar. In fact most of the birds can be seen in the surrounding area without needing to enter the reserve. Around 100 species of birds nest there and its position on the "migratory flyway" means that another 80 or so visit it but, as the IUCN recommendation states, "its small size means that the quantities of birds are not comparable to other larger wetlands". Nevertheless, as the recommendation also states, "the site is important on a European scale" and it features in books and articles on "Where to watch birds in Europe".

As would be expected, most of the "wetland biospheres" which make it onto the WHS list are already RAMSAR (Wetland) and UNESCO World Biosphere reserve (WBS) inscribed and Srebarna is no exception. Worldwide there are around 1600 of the former and 480 of the latter and dual designation is not that uncommon. However whether it should also have received the third (and highest?) accolade of "WHS" is perhaps less clear (there are only 160 natural WHS). In so doing it joins undoubted World-class wetland locations like Donana, Pantonal, Danube Delta and Everglades. It is relatively unusual for a natural site to get inscribed on the basis of just 1 of the 4 available criteria (none of the above 4 examples was and I think that, of similar sites, only Ichkeul in Tunisia does so). Yet Srebarna was accepted on the sole basis of Criterion 4 – i.e. it "contain(s) the most important and significant natural habitats for in-situ conservation of biological diversity," Can this small site really meet even that criterion? The Dalmatian Pelican colony isn't the biggest in Europe (I believe that is in Greece) and (as far as I am aware) the site lacks the White Pelican (whereas both species breed in the Danube Delta). However Bulgaria has always been very active in gaining WHS inscription from the earliest days of the scheme (8 out of 160 worldwide after 6 years when Srebarna was added in 1983) and also in establishing Biosphere Reserves (it has an amazing 16 sites, only beaten in Europe (not counting Asiatic Russia), I believe, by Spain) so I guess that the inscription is at very least "due reward" for playing the bureaucratic game well!
Date posted: May 2006
Have you been to Srebarna Nature Reserve? Share your experiences!