Statue of Liberty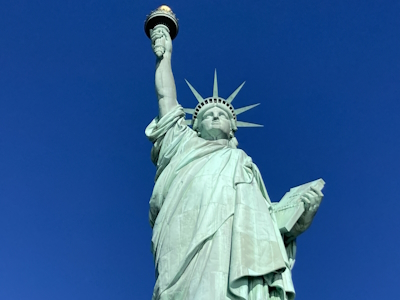 .
The Statue of Liberty is a gigantic neoclassical sculpture that welcomed immigrants to the New York harbour, and is symbolic for the populating of the United States in the second half of the 19th century.
It was a gift from France on the centenary of American independence in 1886. The piece was constructed in the studios of Bartholdi, Paris (a symbolic conception in Europe). Gustave Eiffel constructed its metallic skeleton. In 1886 it was officially inaugurated.
Between 1840 and 1880, over 9 million foreigners had landed in the United States.
Reviews
Clyde (Malta):
I visited this WHS by boat from Manhattan and after visiting Staten island. It is really huge and still one of the biggest presents in the world. I saw 2 replicas of the Statue too: one in Paris close to the Eiffel Tower and one in Tokyo just after the Ueno Bridge.
Date posted: September 2012
Messy (USA):
As far as national icons go, Frédéric Bartholdi's Liberty Enlightening the World is the ultimate. It is a symbol of what this nation is supposed to stand for, for the nation in general and for New York City in particular, Uncle Sam is as fictional as Santa Claus, Mom is mad at you half the time, apple pie is overrated, and the flag is everywhere, but Lady Liberty is different. The UN has declared her a World Heritage Site.

She's in one place, and as the genuine article, just has to be experienced in person. However…

There are a number of things that have to be seen properly at a distance, and this is one of them. For one thing, it costs $12/person MINIMUM to get o Liberty Island. For that you get to see the statue's butt from a distance. They started letting people in for the climb to the top a few months back, but in order to do that, you have to make reservations well in advance (go here), or get to the ticket office in Castle Clinton (itself a National Monument), by at least eight in the morning. Just going on a whim is a waste of time. Generally, the ferries goes there and Ellis Island, and starting around noon, there's not enough time to see both it and Ellis Island (which IS worth going to), and so if you're in the Battery in the afternoon, or New Jersey's Liberty State Park, where the other ferry docks, don't bother getting on.

But as was said before, this is a mandatory tourist trap, and visiting New York without seeing the thing head on is something you would regret. So what to do?

There are two options that are totally free of charge:
1) The Staten Island Ferry
2) Governor's Island.

The Staten Island Ferry is a no-brainer. Millions of tourists make the ride every week and never leave the St. George Terminal. The view of the statue is excellent and you get to see it twice. True, the snacks are expensive, but you can get them elsewhere much cheaper.

However, if you're in town over the weekend, Governor's Island is a much better option. While only open Friday through Sunday until October 10th (unless you make a reservation for the Wednesday or Thursday tours), you can get the FREE ferry to what was until recently a military base, and walk over to what happens to be a perfect spot to view Lady Liberty, sit down on that convenient park bench and take her in for as long as you want. After that, you can take a tour of the two forts or participate in one of the many artistic endeavors that various groups have planned in order to make Governor's Island the great American Hangout.

As to souvenirs, you can get Statue of Liberty tchotchkies just about anywhere, and, and they're generally less expensive.

If you don't live here in New York, then it may actually be worth it to go to the website and see if you can get a "crown ticket." There's a better than even chance you won't get it, but that's the only reason to actually get to the island.
Date posted: July 2012
Ian Cade (England):
This is one of the most identifiable entries on the whole list. It is a great feat of engineering which is inextricably linked with a political philosophy, representing a significant change in human migration.
In June 2009 I revisited the Statue of Liberty some 12 years after my first visit, on my initial trip I got onto Liberty Island and into the base of the statue. The main impression I can remember was that the statue was large and the queues were long. My second trip enabled me to confirm these initial thoughts. There were incredibly long queues to get out to the island, as such I used the free Staten Island Ferry to get a closer view of the statue and found this a good compliment to my earlier trip. If I was visiting for the first time I would be tempted to join the long lines and security screenings to get closer to the island, but as I had already seen it up close I was happy to sail by with a large number of commuters into Manhattan.
This is one of the most overtly political inscriptions on the list; I wonder if other particularly ideologically charged monuments would get onto the list? However migration to the United States in the first 150/200 years of its existence was one of the greatest unforced (mostly) movements of people in human history and as such is a worthy event for such a renowned monument.
I really enjoyed New York; it certainly has a real buzz about it. Despite the huge buildings it feels distinctly human, partly because it is surprisingly grubby in places (and that isn't a criticism). Many major western cities, especially some of the American cities I have visited, really lack an atmosphere as the wide roads and tall buildings remove the human scale of the city. New York doesn't suffer from this, and I found it a really rewarding city to visit, and the Statue of Liberty was one of the highlights for me.
Date posted: July 2009
Joseph Colletti (USA):
Since 9/11/2001 the stairway to the crown that winds around the inside of the statue has been closed for "security reasons." Climbing that stairway, not only for the chance to see the internal structure of the statue but also the view from the crown was the real draw of a visit, as a kid I loved it, and I don't think the long lines and the cost of getting to the island are worth it without that opportunity. Go to Ellis Island instead. Some local members of Congress are pushing to get access to the crown restored but it doesn't seem like it will happen soon. I would agree with other posters--take the Staten Island ferry (free!)for stupendous views of the statue and lower Manhattan.
Date posted: March 2009
Stephen Brooker ():
I visited here with my Father about a year before 9/11. The Statue of Liberty is certainly impresive, and I keep meaning to visit the prototype in Paris.

However Liberty Island seemed to be in danger of sinking under the wieght of the tourists upon it so we didn't get off and went onto Ellis Island.

The Statue is of course iconic because it was famously the first thing migrants saw on arrival in the USA, they then went on Ellis Island to be processed - Today Ellis is an emotive museum of imigration, and perhaps given the role it played in American and indeed world's history this site should be extended to become 'Liberty & Ellis Islands.'

Tip though if your short of cash, don't take the boat to Liberty Island but go on the Staten Island ferry which is free, and gives good views of both Manhatten and the Statue.
Date posted: September 2008
():
If the lines for the Liberty Island ferry are too long, instead take the Staten Island ferry (free) which passes close by and offers great views of the lady from sea level.
&nbsp
():
its probaly one of the world heritages sites that im firmiliar with...thought ive never climbed it i no people that have....if you hav been there tell us about it i would like to here about it
&nbsp
():
Having been born and raised in the NY Metro area, and the son of Italian immigrants, the Statue of Liberty has a certain familiarity to me even though I've never actually climbed it. Still, one can only imagine the excitement this monument generated as waves upon waves of immigrants began their quest for the elusive 'American Dream' in the New World in which she greeted them.
&nbsp
():
Since the teroist attack if you want to enter the Statue of Liberty you have to call and reserve your tickts two days in advance. Though you do get a great view of New York Harbor at the to at the crown. Also with the ferry tickit it comes with Ellis Island go there to.
&nbsp
():
I went into the statue of liberty on a very hot day, but that doesnt matter it was so beautiful to see new york and the original torch. I went in the afternoon so i had to stand in the line for about and hour or two.
&nbsp
Philip T.K. (Canada):
I visited the Statue of Liberty on a rainy Monday morning. It is best to go early to escape the long lines in the afternoon. In order to vist the statue, one must buy a ferry ticket that also stops at Ellis Island. I was unable to visit the interior of the Statue of Liberty (reservations are needed in advance) but the exterior was interesting enough. It is definitely worth a visit and it is a must-see if you are in the area.
Date posted: July 2006
Axel Fries (Sweden):
This, in my opinion, feels more like a must see when you are in New York City than a place really woth visting. When I was here in July the queues was awfully long just to get on the boats out here and of course even worse to get inside the statue. The lady is impressive but there are so much more intersting places to visit in this city, I wonder why Manhattan's skyscrapers isn't on the list. The boats also stops at the immigration museum on Ellis Island, which in my opinion is much more interesting.
Date posted: March 2006
Emilia Bautista King (U.S.A.):
New York City is my favorite city in the world and I go for a visit at least once a year. I've done the ferry ride to the Statue of Liberty twice and it is really exhilirating to see her up close, especially when you are on the ferry with non-American tourists. The last time I went I took friends of mine from Australia and they were so thrilled.
Date posted: March 2006
James Kovacs (USA):
The Statue of Liberty is my favorite man-made monument in the world. It represented freedom to so many European immigrants when the arrived by ship into New York harbor
in the early 20th century. It is the perfect monument
for America. A country that embraces freedom and liberty.
Date posted: February 2006
Klaus Freisinger (Austria):
If this is not the most famous statue in the world, then I don't know what is (OK, maybe Michelangelo's David comes close - on a different scale, though). Everybody has seen this image many times, but actually seeing it with your own eyes is fascinating. The best experience is not the statue itself, but seeing it from up close from a ferry. I was too lazy to climb to the top, and I'm not sure if it's allowed now (certainly no elevator). The ferry does a triangle ride (Manhattan - Liberty Island - Ellis Island - Manhattan), and you should get off at Ellis Island as well, since this is really hands-on history in a very fascinating museum. I don't think the stories behind the endless immigration to America could be better presented, and maybe you'll find, as I did, that relatives you hadn't even heard of, came to the US about a century ago. I don't think Ellis Island is part of the WH site, though.
&nbsp
Ivan ManDy (Philippines):
Probablly one of the most familiar World Heritage Sites anywhere (for better of for worse!). I didnt realize it belong to the list till three years after I've visited it!

For all her fame, I liked the view of Manhattan and Ellis Island better. It's just me of course.
&nbsp
Juan Carlos (M?xico):
Go to the statue. And take a look at her, makes you feel the sensation of being an immigrant coming from Europe, watching the fog and suddenly the Statue of Liberty, and then think on what her really represents. Unforgetable feeling.
&nbsp
():
I've climbed up into the crown of Liberty, something I don't think will be allowed again. It is always crowded and you can't linger and enjoy the moment, but I am glad I did it.
&nbsp
Have you been to Statue of Liberty? Share your experiences!