Struve Geodetic Arc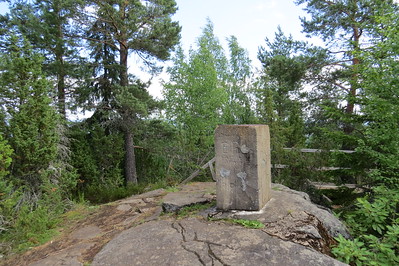 .
The Struve Geodetic Arc is a chain of survey triangulations stretching from Hammerfest in Norway to the Black Sea, through ten countries and over 2,820 km. The chain was established and used by the German-born Russian scientist Friedrich Georg Wilhelm von Struve in the years 1816 to 1855 to establish the exact size and shape of the earth.
The area of the Arc designated as a WHS consists of 34 stations, spanning 10 countries.
Reviews
Tony H. (Finland):
If you want to choose one point to visit Struve Geodetic Arc the best place is probably the Tartu old observatory. The observatory is located on a hill next to the town centre. Inside of a observatory there was small exhibition about astronomy and 2 very helpful ladies who told about the history of observatory and the geodetic arc. There was big map of the Struve arc and some brochures and sign saying it's world heritage site.
Otherwise Tartu is very lovely town, worth of day trip from Tallinn for example. There's buses (and slow train) going all the time between the cities.
I have also visited the Aavasaksa point of arc in Finnish Lapland long time ago. It's right next to the road between Tornio and Kilpisjärvi and good place to stop on your way to north and see the beautiful views to Tornio River valley.
Date posted: July 2011
Walter (Switzerland):
Sturve Geodetic Arc is a very stange multi-location site.
Each location is quite small, some corresponding to a 100 meter diametre circle centered on a traingulation point. Those points may consist just of a small mark on a stone.
I visited 3 of those sites in June 2009.
The first went to Tornea church in Finland. A simple church typical of that area, from which tower Sturve made a triangulation point. Easy to find in an otherwise unremarkable Finnish border town.
The second point I visited was Peera-Vaara in Sweden. It is a point atop a flat hill, which is supposed to be the highest point in the area. It is difficult to find. It is closed to the village of Hedenäset. The dirt road going to the point is not marked, and I was lucky to have printed the map included in the nomination file to find my way. Follow a dirt road going on the left from road 398 from the village. After 10 minutes turn right uphill, and after a few minutes, there is a small parking spot (place for 2 cars only). From there, 10 minutes walk on a wooded path.
You then reach a mark on a stone with a wooden sign above it. It is in the middle of the forest (hence no view). This place is only for the World Heritage collectors, even if the forest walk is quite nice.
The third point is luckily much easier to find ; Avasaksa is a nice hill, which top can be reached by car. The exact location of the site seems to be the big observation tower. The view in the area is quite nice on the river that marks the border between Finland and Sweden.
Date posted: July 2010
John Booth (New Zealand):
So far I have only visited several site on the arc in Scandinavia, although like Ian I fear there may be more in the future.
I reached the Alatornio Church by travelling from Kemi station by bus to Tornio, a town located on an island in the Tornio River. The church with its distinctive clock tower is on another island further south and facing the Swedish town of Haparanda on the opposite bank. The short way to the church is by crossing a footbridge back to the Finnish shore, going south, then crossing the railway bridge linking Sweden and Finland, with its dual gauge tracks. This brought me to the cemetery at the back of the church.
On the bus journey through Lapland from Rovaniemi to Alta I stopped in Enontekio and Kautokino, but didn't locate the Struve markers in either place or in Alta.
But I did visit the Struve obelisk on the Fuglenaes Peninsular near Hammerfest. Although it is in a fairly industrial part of town my only companions were a herd of reindeer grazing on the newly planted lawn. Hammerfest, on an island connected by bridge and tunnel to the Norwegian mainland, is the end of the line for a bus service from Alta. I was amazed to find here at latitude 70 deg N that there is a city, factories, grass and animals. I had previously been at latitude 70 deg S (Antarctic Peninsular) where there are only rocks, ice and penguins.
Date posted: May 2010
Ian Cade (England):
At some stage this interest in World Heritage Sites turned from an awareness of major tourist sites into a full blown obsession. This was perhaps best illustrated by the fact I found myself alone in a field a few km off of the Vilnius- Minsk highway on a particularly chilly Saturday morning.
The measuring post I visited was at Beresnäki about 18km from Vilnius. It is essentially a slab of concrete with a small concrete fence around it. Next to this is a small obelisk marking its inscription on the World Heritage List. There was also an information board. Aside from that there was nothing else in the field. I walked about 3km to get to the field from a local bus stop. There were a few houses on this route and two locals stopped me to ask where I was going, unfortunately I hadn't learnt "I'm going to look at a geodetic measuring post in a field up ahead" in Lithuania by this point, and probably never will. Despite being so close to the capital this area did feel particularly rural. You won't be surprised to find out that mine were the only set of footprints in the snow that led up to the site.
Altogether it took me about 1h45mins to visit this site including about 5 minutes at the site taking photos and doing a few laps.
I'm now left in a quandary about when to count the Struve Geodetic Arc as a visited site. I have certainly put less effort into seeing other inscribed sites however I have seen only one of the 34 inscribed sites which stretch over a mammoth 2830km. I think I may leave the 'ticking off' of this site until I have seen a post in a different country or visited the Observatory at Tartu.
If anyone else is also stupid enough to want to visit this site by public transport then Bus 16 from Vilnius can drop you off at Posukus from where it is a 3 km walk. Alternatively the bus company Romeksas run buses to Rukainiai and this will drop you off a little closer at the turn off to the site which is marked with the words Struves Geodezinis Punktas 1 but I have no idea of any kind schedule for them. There is another inscribed post about 2km north or the geographical centre of Europe about 20km north of Vilnius. It would be very easy to get to these points with your own car and a GPS as for once you really can rely on the co-ordinates that UNESCO provide.
All in all was it worth it? Well for me yes it was, as I have another little story to tell of some esoteric travelling, and I had plenty of time to enjoy the other delights of Vilnius.
Would I recommend it to anyone else? Probably not unless you are equally as obsessed with this little list that UNESCO has.
Will I visit more posts in different parts of Eastern Europe? Sadly I'm pretty certain I will.
Date posted: March 2010
Sazanami (Japan):
I've been to four sites(Alatornio kirko,Aavasaksa,Dorpat observatory and JACOBSTADT point).
It's scientific interest,but almost sites are difficult to get.
Thus the more these are difficult to get,the more emotional when found.Struve Geodetic Arc is so.
When I've been to the Dorpat Observatory in Tartu,Estonia,it isn't open for public.
But the workers to restore the architecture allowed me to see inside and climb the ladder up to the top so that I could see over the view of city of Tartu.
Date posted: February 2006
Have you been to Struve Geodetic Arc? Share your experiences!