Su Nuraxi di Barumini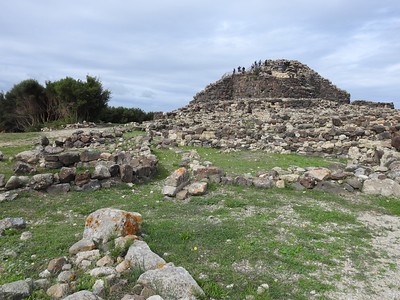 Photo provided by Philipp Peterer
Su Nuraxi di Barumini is the most important
nuraghe
megalithic monument of Sardinia. It is centered around a three-story tower built around 1500s BC.
Nuraghe (Nuraxi) typically are truncated cone towers, in the shape of a beehive, built with huge square blocks of stone, and usually located in a panoramic position. The monument has no foundations, and stands only due to the of the weight of stones, which may weigh as much as several tons. Some Nuraghes are more than 20 metres in height.
Today, there are more than 8,000 Nuraghes in Sardinia, though it has been estimated that once the number was more than 30,000.
Reviews
Frans Boeijen (Netherlands):
The site is very impressive and large. I was surprised one could go in, but this was only possible with a guide. There was no English speaking guide available, which made it hard to understand what we saw. With a little English book it was possible to understand some of it.

It was not difficult to find the site. I found it very worthwile visiting and would certainly recommend this to anyone visiting Sardinia. However the countryside was a bit disappointing...
&nbsp
Have you been to Su Nuraxi di Barumini? Share your experiences!