Thracian tomb of Sveshtari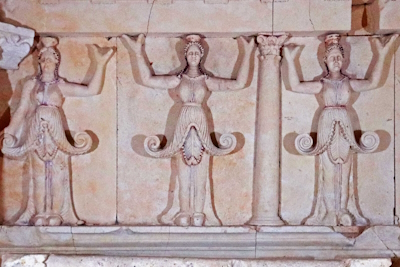 .
The Thracian Tomb of Sveshtari is a 3rd century BC tomb that reflects the fundamental structural principles of Thracian cult buildings. It was discovered in 1982.
The tomb's architectural decor is considered to be unique, with polychrome half-human, half-plant caryatids and painted murals.
It differs from the
Thracian Tomb of Kazanlak
as it is a hypogeum, not a construction with a cupola. With its origins in the culture of the Getae, it fits a Hellenistic model that was common in Macedonia, Asia Minor and Egypt.
Reviews
john booth (New Zealand):
I reached the site by taxi from Isperih, a 9km journey which cost 20 lev return. Taxis gather at the bus station, 1km north of the railway station.
The tombs are open from Wednesday to Sunday only, entry fee 10 lev.
Date posted: December 2012
Rossitza Ohridska-Olson (USA):
My husband and I have visited the Sveshtari Tomb the last year and we were delighted by its beauty. There is a regime of controlled access to the tomb, which means that the visit can be done only with a guide from the office of the Sborianovo Archaelogocal reserve. The guided tour also provide visit to another Thracian tomb (the total of the tombs is more than 100) and the guide explains all the details of the style, the epoch and the importance of the tomb.
Date posted: May 2009
Solivagant (UK):
The Tomb of Shvestari is Bulgaria's second UNESCO-inscribed Thracian tomb (see also my review of Kazanlak). It is claimed to be "the finest Thracian tomb in Bulgaria" but, surprisingly, wasn't excavated and discovered until 1982. When we were there in 2000 we could not get in. As you can see from the photo, that is a distinct negative, as the mound itself sitting in a field is not that interesting! I understand from some web sites however that, as of 2006, it might be possible – albeit with prior arrangements, to get inside. I quote "The whole is encased in a protective shell and is open to visitors, though at present, at irregular times - it's vital that you ring or call in at the museum in Isperih or at Aristour in Shumen to check that it's open before making a special trip".

Perhaps that part of Bulgaria has become more "tourist savvy" in the intervening years. We had great difficulty even getting locals to understand what it was we wanted to see! The nearest village is over 2kms away and the site wasn't signposted along any of the several possible routes. Our few words of Russian for "Please - where is?" (We had no Bulgarian and English, French or Spanish didn't help) whilst pointing at a print out of the UNESCO page for the site which contained a picture of the interior didn't seem to lead anyone to link the presence of some "lost" tourists to this site and guess what it was we might be enquiring about! Or perhaps they just enjoyed having a laugh at tourists' expense!
Date posted: January 2006
Have you been to Thracian tomb of Sveshtari? Share your experiences!