Tongariro National Park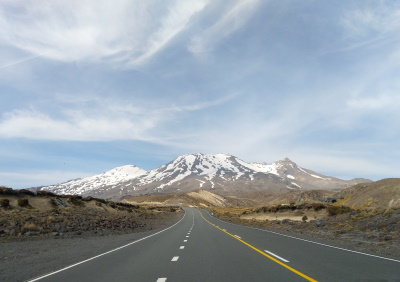 .
Tongariro National Park is an associative cultural landscape of active volcanic mountains that hold a number of Maori religious sites. It is situated on the North Island of New Zealand.
Tongariro National Park was the fourth National Park established in the world. The active volcanic mountains Ruapehu, Ngauruhoe, and Tongariro are located in the centre of the park. The mountain summits are of great significance for the cultural identity of the local Maori people.
Reviews
John Booth (New Zealand):
There are three snow capped peaks within the national park, all of which are active volcanoes. I have witnessed on several occasions smoke, ash and lava spewing from various vents on the mountains, particularly Mt.Ngauruhoe. The crater lake on the summit of Mount Ruapehu periodically overflows, tipping its contents of hot water down its slopes.

Despite these hazards, in the summer the mountains are used by trampers following the various trails marked out on the landscape. In the winter it is a mecca for ski fanatics, with chair lifts and rope tows heading off in all directions.

There is a plethora of lodges on Mount Ruapehu, as well as at its foot. The area can be reached by rail services from Auckland and Wellington
&nbsp
Gatis (Latvia):
The most magnificent sight was an early morning - snow covered Ngauruhoe volcanoe on pink sky. I will never forget it.
In general - incredible mix of fierce wilderness, unusual beauty and hospitality of local people. If you are lucky enough to visit the site - try at least the track named Tongariro Crossing (consult tourism bureau before - often weather up there is too dangerous). It takes rather weary day, but it is incredible to walk so quickly from forests through tussock above snow line and back.
&nbsp
Have you been to Tongariro National Park? Share your experiences!