Trinity Sergius Lavra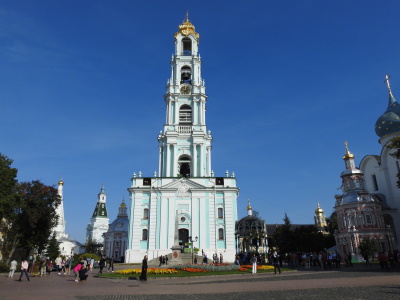 .
The Trinity Lavra of St. Sergius is the most important Russian monastery and the spiritual centre of the Russian Orthodox Church. The monastery is situated in the town of Sergiyev Posad, about 90 km to the north-east from Moscow by the road leading to Yaroslavl.
The monastery was founded in 1345 by one of the most venerated Russian saints, Sergius of Radonezh, who built a wooden church in honour of the Holy Trinity at the Makovets Hill.
Reviews
Isabella Miram (USA):
It was May 1986 when I traveled for the 4th time to the Soviet Union in order to explore more it'treasures.
Having been twice on the night train from Moscow to Saint Petersburg (Leningrad in those days) I felt that I should explore more of her glorious and often, sad past.
Our Intourist guide suggest Zagorsk (today Sergiev Posad)
a day trip from Moscow.
Traveling by bus in a Northern direction for 70 km, I found myself engrossed deeply in Russian history, as fields and birch tree groups, were sliding by. Colorful houses with picket fences and flower boxes lining the road. I found myself humming Russian tunes, those I remember my mother singing when I was a child.
We were informed that this fortress-like monastery held a special position as it was - I guess in these times - the only place pilgrims from all over Russia would come to worhsip in the beautiful Cathedral of the Assumption.
There were many elderly women with head scarfs gathered in front ot a fountain that spouted water. They gathered the silvery flow in bottles to take with them.
The Russian Tsars would seek refuge there escaping invading enemies. There was an infermary, as explained, full operational during WWII.
Walking slowly inside the cathedral, candles flickered, reflecting their light on the religious ornaments, not as elabortate as in some other places of worhsip, but very moving.
Awareness of foreigners made a few women turn around and look at us. One caught my eye. She held me there and a small smile lit up her face, as she walked towards me.
Her arms reaching out to me I met hers and we both stood for a moment and smiled at one another. In Russian she said 'My friend' and the tears did wel up in me.
After visiting the tomb of of Saint Sergius and areas of other interest, we were gathered up and climbing back on to the bus, I knew that I would always remember this special place of humanity.
Date posted: October 2009
Frederik Dawson (Netherlands):
A small town just around 70 km. north of Moscow is Sergiev Posad or Zagorsk during Soviet time. As the former center of Russian Orthodox Church for many centuries, the town has special position for Russian, and the town monastery also has special title called Lavra which is the highest title for monastery granted by the Tsar. The town has become famous after Saint Sergius of Radonezh has been promoted as the patron saint of all Russia then the pilgrims from every corners of the Empire made their journey to this holy town.

The town monastery, which has been established by the saint himself in 1340 hence its name Sergiev Posad – Town of Saint Sergius, is located on the hill and surrounded by huge white wall making its fortress- liked appearance similar to the Novodevichy convent in Moscow but less ornate details. For inside, as typical Russian monastery the center is the five onion domes cathedral and this one is bright blue with golden star spangled, the very beautiful Cathedral of the Assumption; however, the true center for everyone is a small and dark Trinity Cathedral where the tomb of Saint Sergius located.

I was so overwhelming by the whole day memorial service melody and a long queue of pilgrims as well as tourists in this small golden and colorful cathedral, one of the most memorable moment of my Russia trip. The European baroque bell tower is another landmark for the monastery as it is so different with other buildings in the complex which are built in Russian styled and inside is a shop for expensive handcrafts! There have many things to see in this spiritual complex and from Moscow Yaroslavsky train station; there have numerous trains connect Moscow and Sergiev Posad within 1.30 hour making a perfect one day trip from Moscow.
&nbsp
Have you been to Architectural Ensemble of the Trinity Sergius Lavra in Sergiev Posad ? Share your experiences!