Turaif Quarter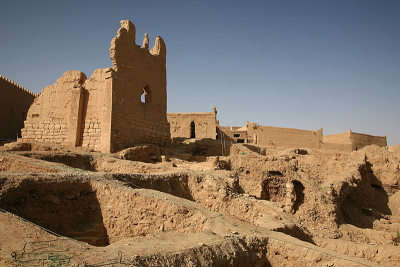 Photo provided by Marcel Staron
The Turaif Quarter in Al-Diriyyah encompasses the remains of a traditional human settlement developed in a desert environment, dating from the 15th century. It consists almost entirely of mud-brick structures. They are a unique example of the Najdi architectural and decorative style developed to cope with the extreme desert climate.
Diriyah was the original home of the Saudi royal family, and served as the capital of the first Saudi dynasty from 1744 to 1818.
The site includes:
- Salwa Palace
- Saad bin Saud Palace
- The Guest House and At-Turaif Bath House
- Imam Mohammad bin Saud Mosque
Reviews
Paul Tanner (UK):
Al-Diriyyah is the ancestral home of the Saudi royal family/clan and is situated a few miles from Riyadh. It was destroyed in 1818 when the Ottomans invaded Arabia. Even when the Saudi family regained control of the area it remained ruined - possibly due to the Wahhabite fear of idolatry of old things which has led to much of Saudi Arabia's tangible heritage being destroyed. (Ref Fatwa 16626, issued in 1994 by `Abd al-`Aziz which reads in part: "It is not permitted to glorify buildings and historical sites. Such action would lead to "shirk" because people might think the places have spiritual value.") In fact the place is significant as the location where Wahhabism was "born". To quote Wiki "In 1744, Ibn Saud took in a fugitive religious scholar named Muhammad ibn Abdul Wahhab, who hailed from the town of Al-Uyaynah, lying on the same wadi some 30 miles upstream. Ibn Saud agreed to implement Ibn Abdul Wahhab's religious views, and what later became known as the First Saudi State, with its capital at Diriyah, was born."
As elsewhere in Saudi Arabia a completely new town has been built nearby and for the most part the ruins lay untouched. A resoration project had been started however by the time we visited in 2002 and some buildings showed the results in their pristine mud walls (photos). Nevertheless much of the site still consisted of ruins and contained some atmospheric alleyways and ruined houses. Our visit was limited to external views though some of the restored buildings include palaces and mosques. As always in Saudi Arabia the "Unbeliever" gets to see a very limited range of sights (indeed will meet relatively few "Saudis" as all the work you are likely to be involved in seeing will be done by immigrants apart from a few Saudis sitting behind desks in museums or hotels doing very little!). But, if you have gone to Saudi as a tourist, as we did, everything is going to be so strange anyway - it was early on in our trip and my wife was still getting used to her black Abaya!! In all honesty, the "Chopping Square" in Riyadh which we had seen earlier that morning (Although there was no "Chopping" going on then and the grill down which the blood from amputated hands flowed was clean enough) was of more interest. But - on reflection it was nice to have seen Al-Diriyyah to put some "flesh" onto the bare bones (no pun intended!!) of Saudi history.
Date posted: June 2008
Have you been to Turaif Quarter in Al-Diriyyah? Share your experiences!