Uxmal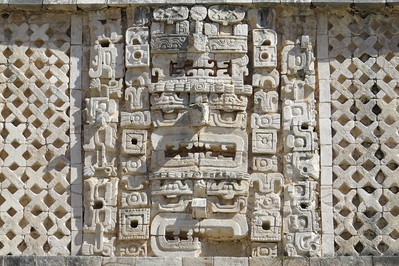 .
The Pre-Hispanic Town of Uxmal is a large ruined city of the Maya civilization. Maya chronicles say that Uxmal was founded about 500 by Hun Uitzil Chac Tutul Xiu, although the exact date of occupation is unknown. Most of the architecture visible today was built between about 700 and 1100.
Sometime after about 1200 no new major construction seems to have been made at Uxmal, possibly related to the fall of Uxmal's ally Chichen Itza and the shift of power in Yucatan to Mayapan. The Xiu moved their capital to Maní, and the population of Uxmal declined.
Notable monuments include:
- The Governor's Palace
- The Adivino or Pyramid of the Magician
- The Nunnery Quadrangle
- A large Ballcourt
- North Long Building
- House of the Birds
- House of the Turtles
- Grand Pyramid
- House of the Doves
- South Temple
Reviews
():
Lets explain the importance of this arueological site in México. The two most importants points are architecture and water system. The first one and known is the decorative stones in every temple, but chultunes (te way they use to keep water in this kind of soil, is one of the most incredible ways to do it. Its incredible that using the same nature elements they have developed the most artistics facades in their temples without having all technology but enginee
&nbsp
():
Uxmal is a really important and distinct arqueological site not only because of its arquitecture, but its water provisioning system. Chultunes are really a diferente way to get water in a region where there are not cenotes, even rivers or lakes.

Arquitecture is the most outstanding example of decorative use for stone.
&nbsp
():
The most impressive city of the mayan world referring to the architecture. Its imposible to thing the water system employed by the maya in this region. There is no way to obtain water.

And here, you can see that architecture is the most elaborated in the mayan world
&nbsp
Kelly K. Henry (USA):
Uxmal is near Merida on the Yucatan peninsula. Uxmal is less frequently visited than nearby Chichen Itza. This ruin is indicative of the Puuc style of architecture and was built around 300-950 AD. The pyramid of the magician is crisply restored as are many other buildings but others are still in complete ruin. The Palace of the Governors is built on the highest point in the area and has some unusual carving. Look for the grotesque carved masks and chak carvings. Also, don't miss the separate site of Kabah nearby. The arch has some original hand prints on it. Some comfortable hacienda style hotels are nearby. I don't think you can get here on a public bus but you can book a tour from Merida and maybe even from Cancun. The place was deserted when I visited in 2003.
&nbsp
Have you been to Pre-Hispanic Town of Uxmal ? Share your experiences!