Western Ghats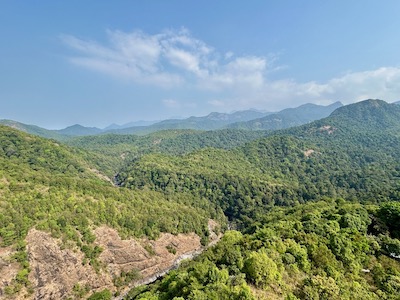 .
The Western Ghats are a 1,600km long mountain chain. They are believed to have been formed during the break-up of the super continent of Gondwana some 150 million years ago, as the faulted edge of the Deccan Plateau.
Its rainforests, rivers and grasslands contain a high plant and animal diversity, including rare and endemic species such as Asian Elephant, Gaur and Tiger.
This is a serial nomination of 7 different areas that include 39 components in total. Examples of these components are Periyar Tiger Reserve, Silent Valley National Park and Chinnar Wildlife Sanctuary.
Reviews
Chaitali (India):
Hi All
Western ghats is a series of hills, valleys, mountains that form a part of the south western part of India. They form a complex ecosystem conserving water, supporting forests and a rich wildlife. they begin after the city of Pune in Maharashtra alongside the western coast of India and go down till the state of Kerala.
During the Indian monsoons, the ghats are transformed into a magical world of waterfalls, pools, mists and lush greenery.
Arguably the best time to travel is between June and September when its raining in almost all of India. Take a train from Mumbai (Bombay) and watch the western ghats through the Konkan railways. This train line stretches till Trivandrum and you get to see the ghats in all their glory.
You may als drive down but then you would have to watch the road as well, it being India after all!!

But its definitely pretty and worth a trip. Thanks to government intervention most of the ghats are protected through national parks and preservation centres hence you can actually enjoy the train journey.
Date posted: August 2012
Have you been to Western Ghats? Share your experiences!