Xochicalco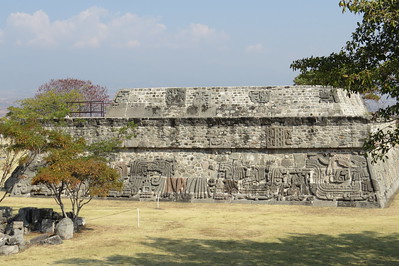 .
Xochicalco is a pre-Columbian archeological site from the transitional Epiclassic Period (ca. 700-900 AD). The apogee of Xochicalco came after the fall of Teotihuacán and it has been speculated that Xochicalco played a part in the fall of the Teotihuacano empire. The architecture and iconography shows affinities with both Teotihuacan and the Maya area and it is probable that the city of Teotihuacan was a multicultural city, although it also does seem to have had a connection to the Tlahuica culture.
The main ceremonial center is atop an artificially leveled hill, with remains of subsidiary buildings, mostly unexcavated, in the surrounding area.
The site was occupied by 200 BC, with the most notable architecture built between about 700 and 1000 AD. At its peak, the city may have had a population of up to 20,000 people.
Reviews
Paul Tanner (UK):
10 out of Mexico's 27 inscribed sites are pre-Hispanic – Xochicalco isn't among the "top ranking" but has its interests and is certainly worth visiting if you are in the Cuernavaca area. Non-experts might tend to think of Mexico as being the home of just the Aztecs and Mayas but there were in fact many more different "civilisations" than these, spread over many centuries. Each of the sites demonstrates continuity and development among and across them and also the different social and agricultural etc practices imposed by the wide variety of living conditions across Mexico's terrain - think 2000 years of Europe from BC to c1500!

Xochicalco dates from around 800 AD and appears to have been primarily religious and ceremonial in purpose. It is particularly noted for its enormous ball court (photo1) with Mayan influences (the "Ball game" had considerable ritual significance in most "Mexican" civilisations) and the Observatory, where caves can be entered to reach a vertical shaft through which the sun shines for 5 weeks on either side of the summer solstice. There are also some fine carvings on the "Pyramid of the Plumed Serpent" linking to both Mayan and Teotihuacan civilisations.

The ticket office (which you must visit first) and museum are set quite a walk down from the site and those with a car should be aware that you can drive up to another car park after getting your ticket/visiting the museum and you will just have to show your ticket at the second entrance – there is no need to walk from the signed museum exit, just return to its car park! Entrance fees were 48 pesos in Mar 2008 (approx US$4.50). Guidebooks which state that "over 60's get in free" are incorrect – this concession has now been limited at all (??) Mexican historic sites (except to my knowledge at El Tajin!) solely to Mexican citizens and registered foreign residents!

You will need 1 ½ - 2 hours to see the site and museum. There is quite a lot of climbing and the site is at altitude but there are some fine views (photo 2). The Observatory closes at 5pm (the rest of the site at 6) – if you arrive in mid afternoon numerous unofficial "guides" will appear to "take you" to it quickly before it closes! There is no need to use them of course but there can be a queue to get in as the resident guide there closes an iron gate when he has a "caveful" so, if you want to see it, gauge how much time there is and how busy the site seems. The caves are at the far side of the site slightly downhill and to the left after you have climbed to the highest plateau (photo). The Observatory isn't signed until that far side. The museum, in common with other pre-Hispanic site museums we visited (other than the magnificent Museum of Anthropology in Mexico DF), only describes its exhibits in Spanish but the signs around the site itself are in English as well (but interestingly not in any local language unlike at El Tajin and Monte Alban – a sign of the relative strength of indigeno culture remaining in various areas of Mexico?).
&nbsp
Have you been to Archaeological Monuments Zone of Xochicalco ? Share your experiences!