Yaroslavl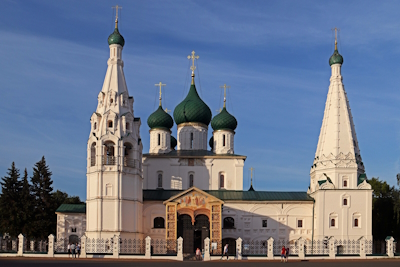 .
The Historical Centre of the City of Yaroslavl is a product of Catherine the Great's town planning reform and is dotted with 17th century churches.
Yaroslavl (250 km northeast of Moscow is said to have been founded in 1010. It lies at the intersection of major highways, railroads and waterways. In the 17th century, Yaroslavl was Russia's second largest city and, for a time (during the Polish occupation of Moscow in 1612), the country's de facto capital.
Its main churches date back to the same period. They belong to the so called Yaroslavl type: built of red brick, with bright tiled exteriors. Those of St. Nicholas Nadein and Elijah the Prophet have some of the Golden ring's most impressive frescoes.
Yaroslavl was also rewarded world heritage status because it is an outstanding example of the town-planning reform ordered by Empress Catherine The Great in the whole of Russia, implemented between 1763 and 1830. The city also holds a number of
significant neo-classical buildings.
Reviews
Paul Tanner (UK):
The historic centre of Yaroslavl was inscribed in 2005 perhaps as part of a "tourist push" in advance of the town's thousandth anniversary in 2010 and we quite enjoyed our morning there in May 2007. The main justification for inscription was its late 18th century urban master plan in neo-classical style, the construction of which lasted into the 1830s, and its numerous churches, mainly from the 17th century (but going back to the 16th century monastery) often built in red brick with coloured tiles (photo). Its situation on the Volga/Kotorosl confluence is very pleasant. The streets and parks are leafy and it has a quiet civilised atmosphere belying its 600000 population. The Soviet period didn't result in a great deal of building in the town centre which remains on a "human scale" and the whole area is easily "walkable".

But the Soviet period was far from totally benign. The city was lucky that, of its 80 churches, 56 have survived, albeit in various stages of preservation after periods of use as warehouses, sports halls etc. One of the gems, with very fine murals in (to our eye) a reasonable state of preservation, is the Church of Elijah the Prophet. This is situated on "Soviet Square" and somehow escaped being blown up in the 30's when the local Komsomol branch complained that it obstructed political meetings! Another church wasn't so lucky. The site of the Dormition Cathedral is today a park overlooking the Volga. This provides an insight into post-Soviet Russia in that a local businessman is proposing to build a new cathedral on the same site in time for 2010. We discovered his name (V Tyryshkin) but were told that nobody knew how he obtained his money. In fact the Web shows him to be.... (surprise, surprise!) a "construction magnate" (I wonder whose company will "win" the building contract!!). We were also told that no one knew how much it would cost – again the Web states 20 million Euros (which doesn't seem enough for an entire Cathedral??). A "competition" has been held to decide the design but the locals' favourite, a near reproduction of the original, is not favoured by the government or church. UNESCO watches from the sidelines but, after accepting an incongruous mosque in Kazan, can hardly complain about a new church? Generally we felt it would have been more appropriate (albeit less grandiose) if Mr Tyryshkyn were to use his money for restoration rather than rebuilding – but it does appear that he is continuing a tradition of "merchant churches" which had given Yaroslavl many of its 17th century churches in the first place!

Pleasant it may be, but Yaroslavl isn't a "great" WHS and I personally found nearby Kostroma more interesting (not even on Russia's T list) for its own Catherine the Great period town design (and more complete Trading Arcades than Yarosalvl) and its Ipaty Monastery (superb frescoes). In Yaroslavl the cathedral within the monastery is closed for restoration and the visit there was a bit dull – especially if you didn't want to support the showing of a lonely brown bear in a rather small enclosure. The main objective of the site seemed to be to provide a location for the selling of matryoshka dolls and other tourist goodies. To us Yaroslavl's main interest lay more in providing clues to provincial life in post-Soviet Russia than in its historical remains.
&nbsp
Sazanami (Japan):
Yaroslavl is a well preserved neo-classical city planning on the urban street and displays unique churches combined with traditional russian orthodox ecclesiastical architecture,especially for the porches which derives from Greek temples.
The Radial urban streets are linked with three main squares in which the church,theater,fire station and something each there.
Yaroslavl isn't enough for day-trip from Moscow,but worth for visiting.
Date posted: February 2006
Have you been to Historical Centre of the City of Yaroslavl? Share your experiences!